Kolibrik Fuel Cell Stack Monitoring Device KiloLoad ZL800-10EW
KiloLoad is a system for testing and EIS measurements of automotive-grade cells (e.g. 500 cm2) with currents up to 2 kA, AC current for EIS up to 50 A. KiloLoad ZL800-10EW is a new range of high-power hydrogen fuel-cell zero-voltage loads equipped with impedance spectroscopy analyzer. This system is primarily designed for use with high-power hydrogen fuel cells and short stacks capable of supplying hundreds of amperes or even more than one kiloampere.
KiloLoad allows to sink high current even with true zero voltage on its terminals – including short-circuit. KiloLoad models are available with maximum current of 200 A up to 2 kA.
Electrochemical Impedance Spectroscopy (EIS) measurements are realized in sink mode, so AC amplitude must be lower than the DC current. Sum of the DC current and AC amplitude must be below maximum rated current of device. The maximum amplitude of the AC component depends on the frequency and impedance of the fuel cell and connecting cables.
EIS module is capable to generate and measure frequencies up to 1 MHz, it has high sensitivity and load high-power path is made to have lowest possible inductance and skin effect. Device is equipped with precise low-inductance and low-skin-effect current sense resistor, internally calibrated with high-precision hall-effect sensor.
Example configuration
Input +/-10 V, sink up to 800 A
Power up to 4 kW, water cooling
Can work as true zero-voltage load for low-voltage sources (e.g. single H2 fuel cell)
Impedance spectroscopy up to 250 kHz, amplitude up to 50 A
Variants (examples)
ZL400-10W – Zero-voltage Load 10V/400A max 2kW, water cooling without EIS
ZL400-10EW – Zero-voltage Load 10V/400A max 2kW, water cooling with EIS
ZL1000-10W – Zero-voltage Load 10V/1000A max 5kW, water cooling without EIS
ZL1000-10EW – Zero-voltage Load 10V/1000A max 5kW, water cooling with EIS
KiloLoad ZL800-10EW block diagram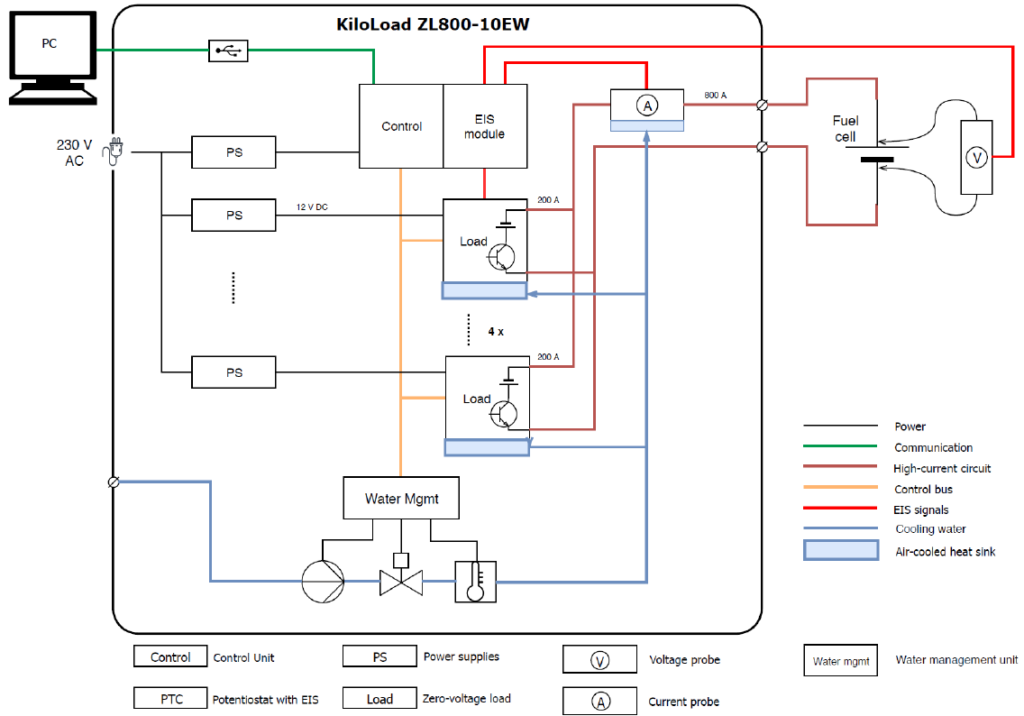 Contact us!
Kolibrik has the right fuel cell stack monitoring devices. Contact them by filling out the contact vendor form.