Hydrogen Flame Detector FL500-H2 UV/IR
The FL500-H2 is an Ultraviolet / Infrared flame detector designed specifically to detect hydrogen (H2) fires. The FL500-H2 optical flame detector monitors for radiation emitted by a hydrogen flame in both the ultraviolet (UV) and infrared (IR) spectral ranges. This UV/IR combination provides a fast response time and increased false alarm immunity against sources of radiation for reliable protection.
Proven Technology: UV/IR flame detection uses an ultraviolet and an infrared detector to monitor for flames increasing false alarm immunity by measuring two different flame spectrums.
Wide Field of View: 130° cone of vision covers greater distance.
Safety Integrity Self-Check: Continuous Optical Path Monitoring (COPM) performs self-check every two minutes to ensure the optical path is clear and the electronic circuitry is functional.
Test Anytime, Anywhere: Easily test with our exclusive TL105 Test Lamp that allows the FL500 UV/IR Flame Detector to be safely tested under real fire conditions with a simulated flicker of a flame.
Withstands Extremes: Wide operating temperature range (-55°C to +85°C) permits operation in extreme environments.
Benefits
We operate at the highest reliability standards, giving you peace of mind. Every two minutes, a built in self-check known as Continuous Optical Path Monitoring (COPM) performs an optical and electrical check. The self-check routines are designed to ensure the optical path is clear and the electronic circuitry is operational.
The FL500 can be tested with the explosion proof TL105 Test Lamp, which simulates the flickering of a fire and provides a high-energy, broadband radiation source that emits energy in both the ultraviolet and infrared spectra to safely activate our flame detectors. This allows the detector to be tested under real fire conditions without the associated risk of an open flame
Stainless steel housing, three LED status indicators, reduced footprint, and simplified wiring make the FL500 easy to install and maintain
The FL500-H2 Flame Detector is performance approved by Factory Mutual (FM) for hydrogen fires.
Multiple Output Options. Industry standard 4-20 mA (source or sink analog), Modbus, HART, relays
Watch the video on our flame detection technology
Out flame detector has an improved design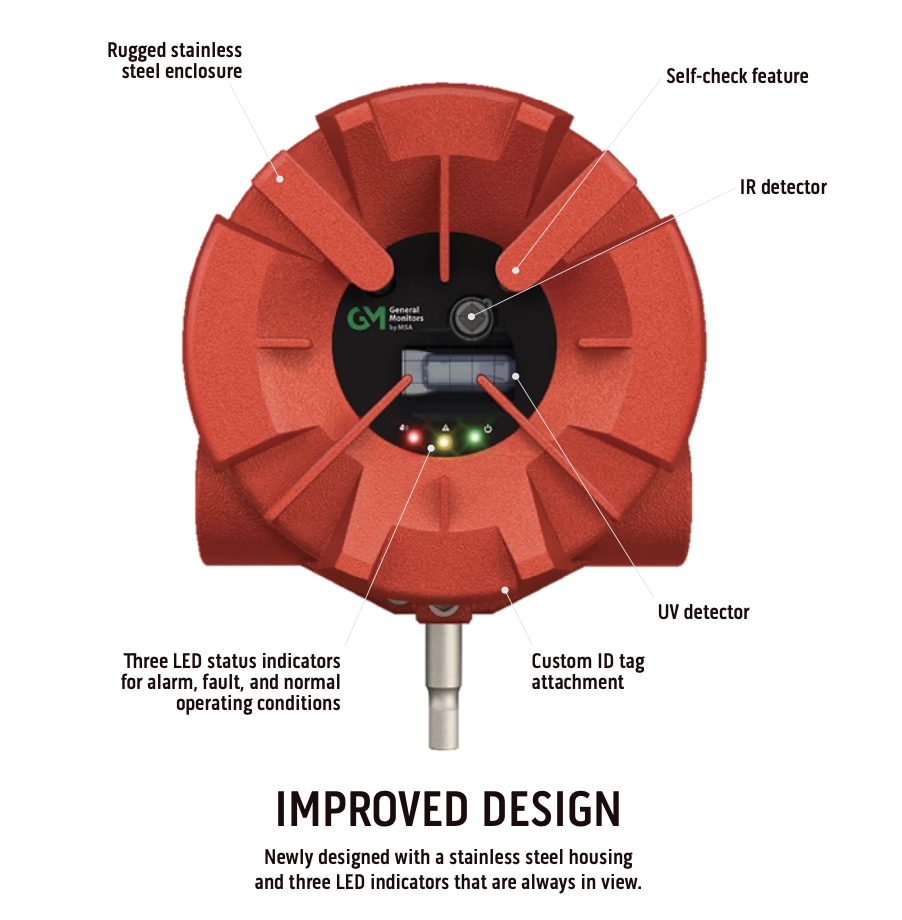 See our detection simulator
Application areas
The hydrogen flame detector are used where ever the risk of an ignition of hydrogen may occure.
It is used in e.g. General Industry, Oil & Gas, Gas turbine applications, Engine test benches, Hydrogen Gas station and many more.
Operating manual
Visit the download section of this page to see all the documentation offered.
You can also directly jump into our the FL500 H2-UV/IR operating manual if you want to know all the details.
A more efficient way is to contact! Fill out the contact form and we will address your any questions you may have.
Contact us!
Your success needs to be safe! We are capable of securing your safety success.