Cathode Pre-Filters Spinmeister Series
If the environments in which the fuel cell system is used are harsh, it is often worthwhile to have a pre-filter that removes coarse particles such as sand and dust before the airflow then continues to the fine filter unit. Solberg's SpinMeister series uses centrifugal force to separate contaminants from the air stream, after which the cleaner air is drawn into the lower chamber and passed on. This option can be used in many variants and in combination with different filter media.
Solberg evaluates each application and works within customer constraints and media adsorption capacities to optimize filter effectiveness.
Key Benefits
Standard and individual solutions available: we partner with you to find the perfect filtration solution for your specific application
Large flow range available: 5m³/h – 14000m³/h
Development and production in the USA: We have the control over our processes, development, and construction, which ensures the highest quality of our products
Extreme duty filtration for high dust environments
Excellent removal for short fibers
SpinMeister® Precleaner 85+% efficiency standard to 15 microns
Durable molded fiber filled composite material
Pressure drop reduced compared to typical precleaners
Bucket made from shatter resistant polycarbonate
Large dirt holding capacity
Clip release band for easy maintenance
Features
Cathode pre-filter for dusty, sandy, and icy environments
Standard and individual solutions available (please talk to us about your specific requirements)
Housings are available in many different sizes and designs from Solberg
Usable in the smallest installation space
Extreme duty filtration for high dust environments
How it works
A variety of filter media and assembly options are available
You can find the different media specifications in our technical data sheets SM-ST , SM Metric and SM Combined
Please visit the download section for further information.
Application areas
Fuel cell systems used in harsh environments
Everywhere where there are dust, sand, ice or other larger particles that must be removed from an air stream to protect the fuel cell's cathode, the Spinmeister-pre-filter solution can help.
Cathode Protection Illustration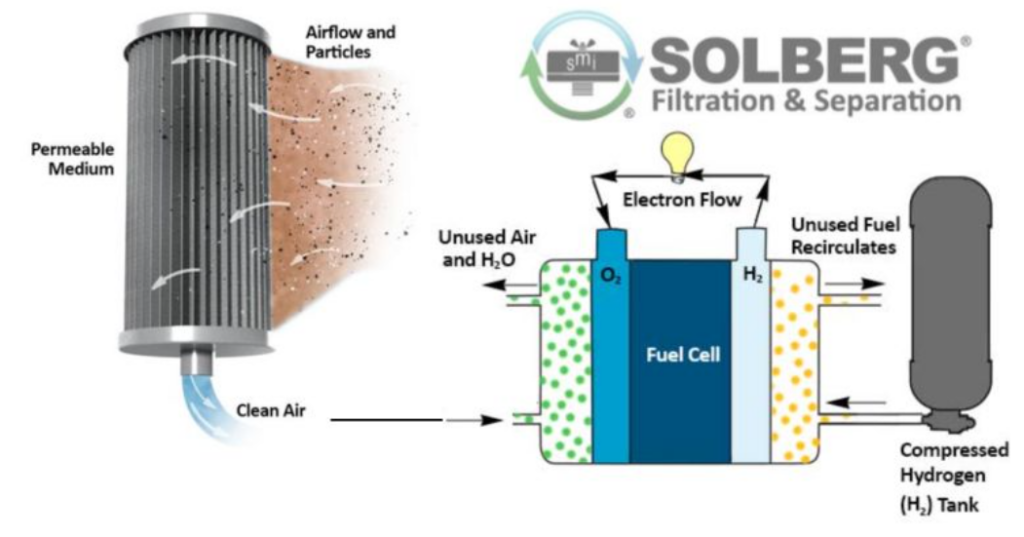 Recent projects
Cathode pre-filter used in a fuel cell range extender system
Working with Solberg
With more than 50 years of experience in the development and production of filtration solutions, the name SOLBERG stands for expertise in filtration like no other. By taking particles, liquids, steam, oil mist and harmful gases out of the air stream, we protect all kind of machines and at the same time the environment.
We want to help our partners to innovate, to find new ways and solutions to enhance their technologies and make power generation more sustainable. For this reason, Solberg developed specific filtration solutions for fuel cells, which we think, will be an important part in the futures energy storage market.
Contact us
Contact our team today. We're happy to help you find the right filter solution that best suits your application's requirements.