Indoor HydroCab Electrolyser
Combining H2 Core systems GmbH's know-how of fluid systems with innovative Enapter AEM electrolysers and the energy management system EMS, they're building you standardised, flexible and smart hydrogen source.
The high quality 19" cabinet system from H2 Core systems GmbH's Indoor HydroCab is particularly suitable for your individual indoor H2 application and includes up to five stackable el 2.1 electrolysers and one dryer.
Several cabinets can be used to build larger systems.
Water purification optional available
Water cooled version optional available
Fuel cell integration optional available
400 V AC Power supply
Easily upgradable and energy management system via cloud or app included august
99,9% hydrogen output purity can be increased to 99,999% purity with an optional dryer module
Key benefits
The H2 Core Hydro Cab is a plug and play solution for small and medium sized H2 demands. It is the solution to integrate Enapters and other 19" modules to a complete system.
Every Enapter Electrolyser is capable to produce up to 0,5 Nm³/h.
The output volume of every electrolyser can be set between 60% and 100%.
The Indoor Hydrocab combines up to 5 modules to a single plug and play module.
An optional Dryer module can increase the purity from 99.9% to 99.999%.
The optional Water Purification System (WPS) can provide the needed water with the quality of < 20 µS/cm.
A Water Tank Module can be installed and stores 38 l of deionized water. It is equipped with a pump which provides the needed supply pressure or the electrolyser modules.
The WTM takes the space of one electrolyser and is needed when no direct water supply can be provided.
Also it is recommended when more than one cabinet will be installed parallel.
Individually scalable for your H2 applications.
Product Variants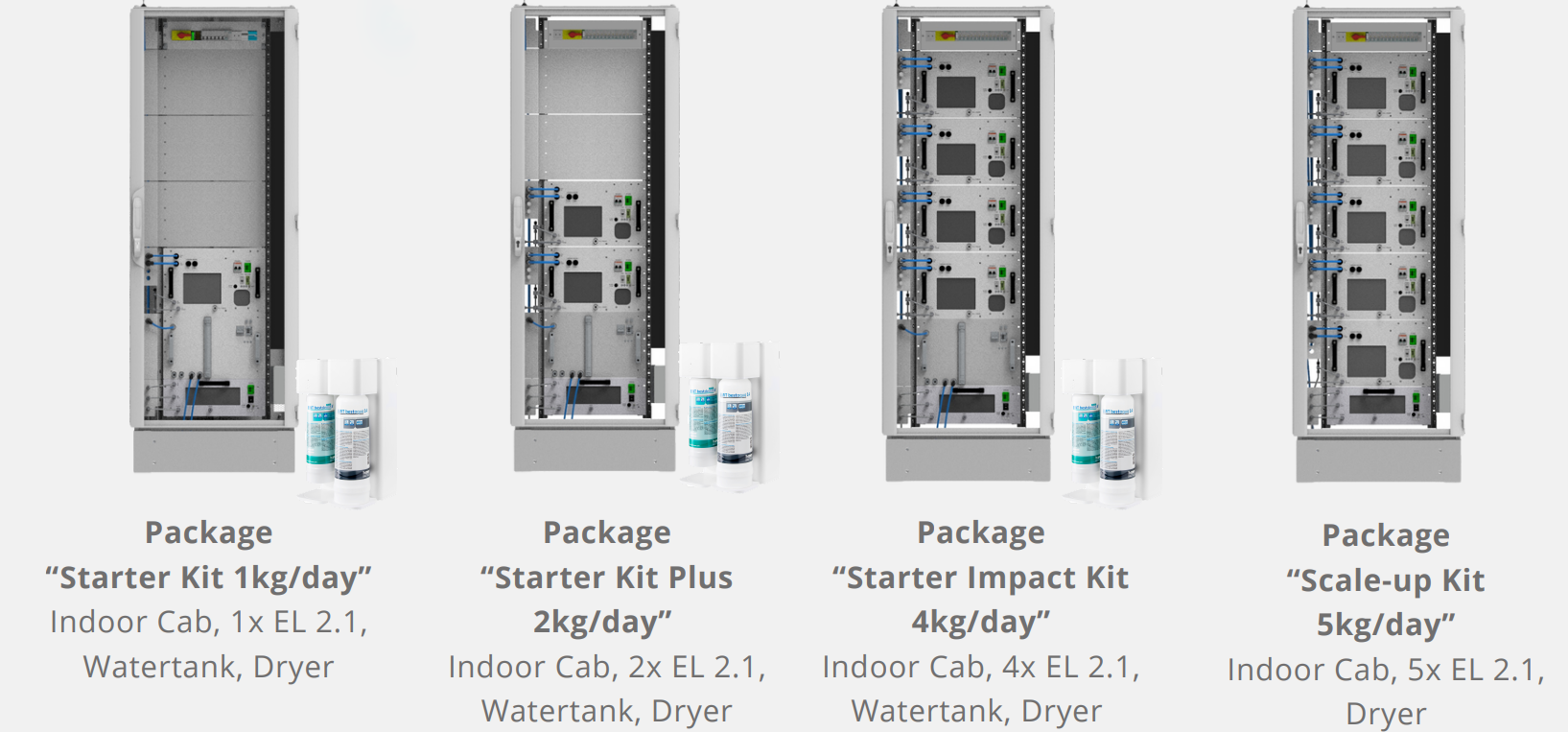 Indoor HydroCab application areas
Research and development
Test benches
Green hydrogen production
On site production for small and medium sized refuelling stations
Residential applications
Contact us
H2 Core Systems GmbH is your next stop for reliable hydrogen production systems. Please contact us for your requirements.