Parker's needle valves
for hydrogen applications (V Series) 
Parker's  hydrogen V Series Needle Valves are designed for positive leak tight shut-off and regulation of fluids in process, power, and instrumentation applications.
With a wide variety of port sizes and styles, temperature capabilities ranging from -65°F to 450°F (-54°C to 232°C) and pressures to 5000 psig (345 bar), V Series Needle Valves provide the user with the utmost in flexibility when designing miniaturized tubing or piping systems.
Choice of three stem types
Differential hardness between the strain hardened stem and cold formed body threads provides improved cycle life
Choice of PTFE packing or elastomeric O-ring stem seals
Available in 316 Stainless Steel, Brass and Monel® Alloy 400 construction
Inline and angle patterns
Wide variety of US Customary and SI ports
Panel mountable
100% factory tested
Optional color coded handles
See our needle valve guide with all variants:
The V needle valves are available in different variants. For details see our product guide – here
Stem Design: 3 main variants of the V needle valve are currently being sold which are listed as below

R-Stem – All metal, blunt stem tip
N-Stem – All metal, tapered needle stem tip
K-Stem – PCTFE stem tip

Hardness: Differential hardness between the strain hardened stem and cold formed body threads provides improved cycle life.
Materials: 316 Stainless Steel, Brass and Monel® Alloy 400 construction.
Sealing: Choice of PTFE packing or elastomeric O-ring stem seals.
Performance: Pressure vs temperature gives a brief overview of different sizes of valves and its capabilities.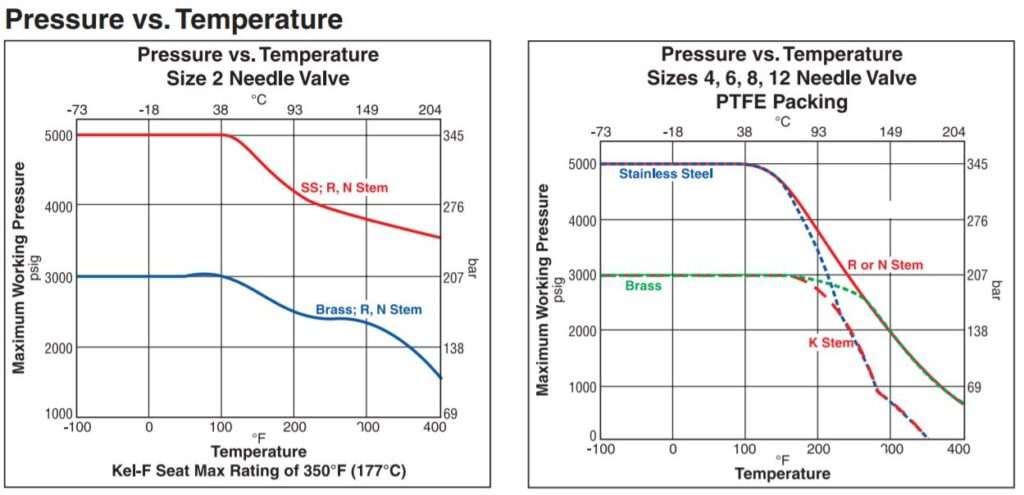 Application areas:
 General hydrogen applications

 

 Process system control and shut-off

 

 Control panels

 
Contact us!
Parker's V series needle valve includes all the sealing you need. Contact us and tell us about your requirements. We will identify the products that provide the performance and safety you expect.