Ultrasonic Hydrogen Leak Detector OBSERVER-i
The OBSERVER-i is a third generation ultrasonic gas leak detector (UGLD) for the rapid detection of pressurized gas leaks. It utilizes the advanced acoustic and patented Artificial Neural Network (ANN) technology to only detect gas leaks while suppressing unwanted background noise, and incorporates the patented Senssonic™ self-test system for failsafe operations.
With ANN technology, the OBSERVER-i makes it possible to fully analyze the sound spectrum as low as 12 kHz since common high pass filters are not used. This provides a broader leak detection range which also increases sensitivity to smaller gas leaks, without interference from unwanted background noise.
ANN technology enables the OBSERVER-i to be installed without time consuming "training" sequences, and provides industry-leading detection distance, with unprecedented suppression of false alarms. In addition, ANN technology ensures that the OBSERVER-i has the same gas leak detection coverage in high and low noise areas. The device requires no alarm set points or trigger levels to be configured, nor do these alarm parameters need to be adjusted if background ultrasound were to increase or decrease over time.
The OBSERVER-i is backwards compatible with earlier versions of the Observer by means of the Classic Mode setting wherein ANN is disabled and the legacy electrical interface is used.
The OBSERVER-i features the patented SenssonicTM self-test function. This well-proven self-test checks the device's electrical integrity and microphone every 15 minutes and ensures the OBSERVER-i is operational at all times. The microphone and the microphone windscreen are constantly monitored to ensure that the detector always has optimal sensitivity and detection coverage.OBSERVER-i also comes with standard industrial user and communication interfaces that provide flexible integration in a broad range of applications.
This user manual describes the installation, operation, and maintenance of the OBSERVER-i to ensure its optimal performance.
Features
Artificial Neural Network (ANN): Improved detection range and background noise rejection prevents false alarms
SenssonicTM integrated acoustic self-test: Failsafe operation
One-person acoustic sound check with traceable portable test unit: High reliability and trouble free maintenance
HART and Modbus: Provides complete status and control capability in the control room
Event logging: Stores fault, sound check, calibration, and alarm event history
Detects gas leaks from 2 BAR (29 psi) pressure: Very small gas leaks can be detected quickly
Performance and Certifications
The main advantage using ultrasonic gas leak detectors is that the detector does not need to wait for gas accumulation, instead it responds instantly, in distances up to 28 meters, when a gas leak occurs.
The OBSERVER-i is suitable in all pressurized gas installations, from 2 BAR (29 psi) or more, where the escaping gas is in a gaseous state when it leaks.
The OBSERVER-i is certified to ATEX, IECEx, FM, CSA, HART, and IEC 61508 standards.
The detector housing is cast AISI 316L, acid-proof stainless steel and the ingress protection is IP66 with a NEMA rating of Type 4X
Watch our product video
Application areas
The OBSERVER-i detects leaks from pressurized gas systems by sensing the airborne ultrasound produced by gas escaping from the leak.
This detection method is omni-directional, functional in extreme weather conditions, and ideal for fast monitoring leaks from valves and flanges in complex pipeline systems, both onshore and offshore.
Easy use and testing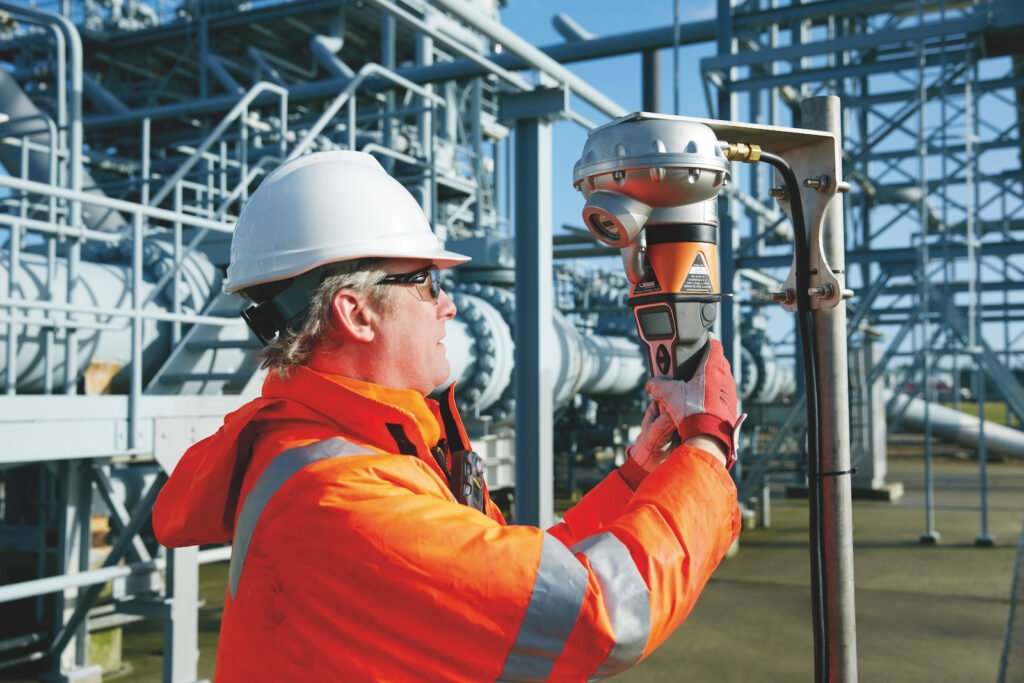 Operating manual
Visit the download section of this page to see all the documentation offered.
You can also directly jump into our the OBSERVER-i operating manual if you want to know all the details.
A more efficient way is to contact! Fill out the contact form and we will address your any questions you may have.
Contact us!
Your success needs to be safe! We are capable of securing your safety success.