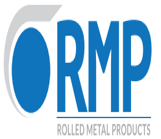 Rolled Metal Products, Inc.
450 Winks Lane, Suite 500 , PA,Bensalem, PA 19020,United States (US)
Rolled Metal Products (RMP) is a specialty supplier of precision CP Titanium coiled strip & foil. Applications include PEM bi-polar plates, seals, gaskets, shims, & welded bellows. Our product is Sendzimir rolled & tension leveled, and is used for deep draw, power press stamping, and photoetched applications. Production lead times are typically shorter than competitors for a custom produced product. Our product range 0.05 to 0.635 mm (0.002 to 0.025 inch) and widths to 330 mm (13 inches).
Titanium offers a high strength-to-weight ratio, low density, great resistance to corrosion and chemical attack, bio-compatibility, an ability to withstand high temperatures and is easily recycled.
Our offerings