Plug & Drive H2 Storage System – 700bar
Voith 700 bar Plug & Drive Hydrogen Storage System (56 kg H2 capacity)

700 bar hydrogen storage system for "behind the cab" installation for heavy duty trucks – also side tank systems possible.
4x Voith full scale Type IV pressure tanks made with towpreg winding technology for highest gravimetric densities and in automotive quality.
Complete H2 periphery including vales, pressure regulator, receptacles, pipes, and filters.
Automotive Tank Control Unit (TCU) with software, sensors, cables as well as refueling communication interface complying to functional safety (ISO 26262) and cybersecurity (ISO 21434) standards.
Mechanical structure to hold the tanks and attach the rack to the vehicle chassis.
System approach allows for easy vehicle integration due to only three interfaces (mechanical adaption to chassis, hydrogen to power unit and information to vehicle control unit).
Extendable to up to 8 tanks (112 kg of hydrogen) in total.
Certification for road approval according to global standards UN-ECE R134 (in 2023) and HGV-2.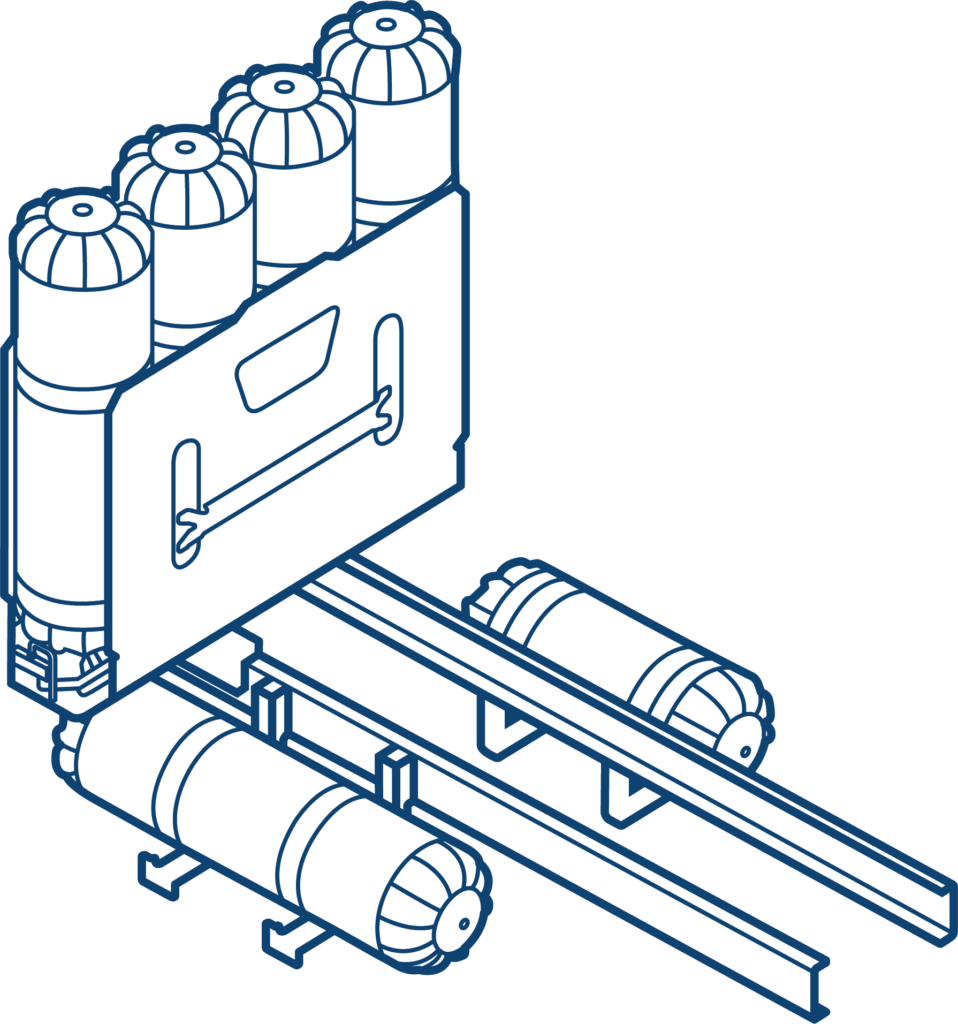 Key features
"Plug & Drive" solution: Complete System from receptacle to fuel cell or H2-ICE inlet.
700 bar Type IV tanks made with towpreg winding in automotive quality for max. performance, durability and safety.
Slim and lightweight structure for efficient behind the cab installation in heavy duty commercial vehicles.
Automotive Tank Control Unit with various safety features for optimal system performance.
Designed for high flow refueling for fast refills as well as compliance with existing 350 bar refueling protocols for max. flexibility.
Modular technology platforms can be adapted to individual needs e.g. by adding additional tanks.
Capacity (in kg H2):

56 (the "core" with 4 tanks)
112 (with an additional subscale tank and one full scale tank)

Certification according to UN-ECE R134 (in 2023) and HGV-2.
Applications
Optimized system layout for heavy duty trucks.
The modular platform allows for various applications such as busses, construction and mining vehicles, agricultural vehicles, ferries, trains as well as refueling stations or gensets.
Contact us
Transport more miles and goods with light weight tanks from Voith. Interested? Please contact Voith by filling in the contact vendor form.