EFOY H₂Cabinet X-Series – Outdoor Hydrogen Power Generator (2.5-50 kW)
EFOY H₂Cabinets are turnkey hydrogen power solutions with integrated EFOY Hydrogen fuel cells.
The modular concept allows for a configuration that is customizable to your requirements.
This could range from examples such as a stand-alone system, a backup power system or as an uninterruptible emergency power supply for a power range from 2.5 to 50 kW. Each EFOY Hydrogen fuel cell module has an output power of 2.5 kW. Two 2.5 kW fuel cell modules fit into one H₂Cabinet.
EFOY H₂Cabinets are ideally suited to replace conventional diesel generators and to switch to emission-free hydrogen energy solutions.
The EFOY Hydrogen Fuel Cell is emission-free, very quiet and an efficient hydrogen fuel cell solution. Therefore, the EFOY Hydrogen Fuel Cell can also be used in ecologically sensitive areas.
The EFOY H₂Cabinets are available in either indoor (N-Series) or outdoor (X-Series) applications.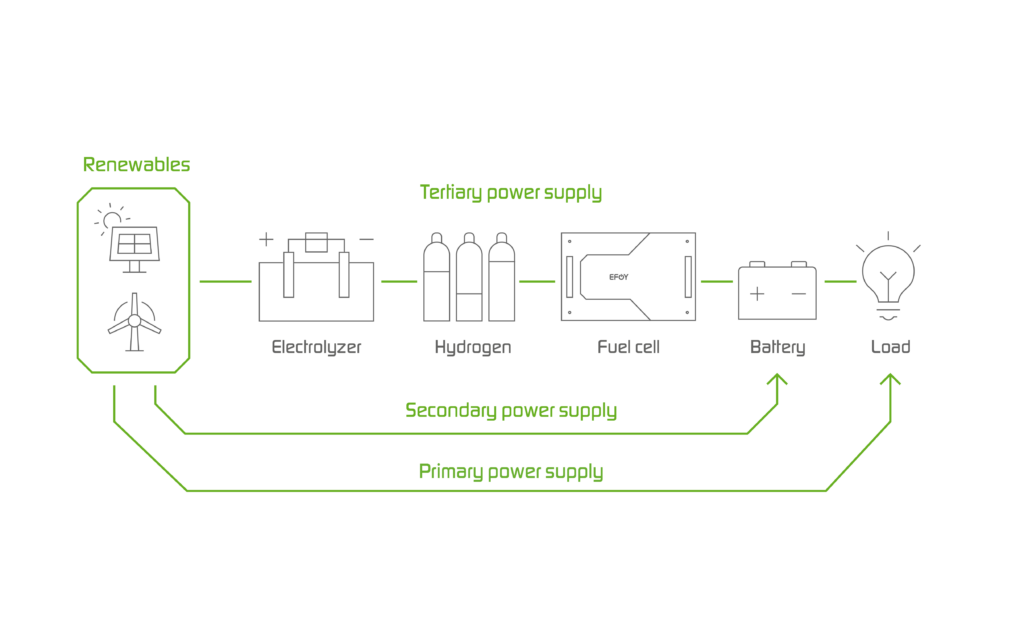 Features
The X-series hydrogen cabinets with individual pressure cylinders or cylinder bundles have proven their efficiency for an easy replacement in the field.
The H₂Cabinets can be configured with an extension for a larger hydrogen supply.
Materials, logistics, disposal costs and additional expenses for maintenance and fuel storage, are significantly reduced by using fuel cells.
The fuel cell modules switch on fully automatically and take over the load after
a power failure.
Thanks to their low maintenance requirements and the fact that they ensure an uninterrupted takeover of the power supply, fuel cells are the ideal solution for running plants reliably, emission-free and self-sufficiently for several days.
Unlike diesel generators, solutions using EFOY Hydrogen Fuel Cells do not produce any CO2 or other emissions.
Example of hydrogen supply and operating time

H₂ cylinders              6 x 50 l (300 bar)          12 x 50 l (300 bar)
Operating time         43.2 h @ 2.5 kW            86.4 h @ 2.5 kW
Operating time         21.6 h @ 5.0 kW            43.2 h @ 5.0 kW
Nominal Capacity    108 kWh                          216 kWh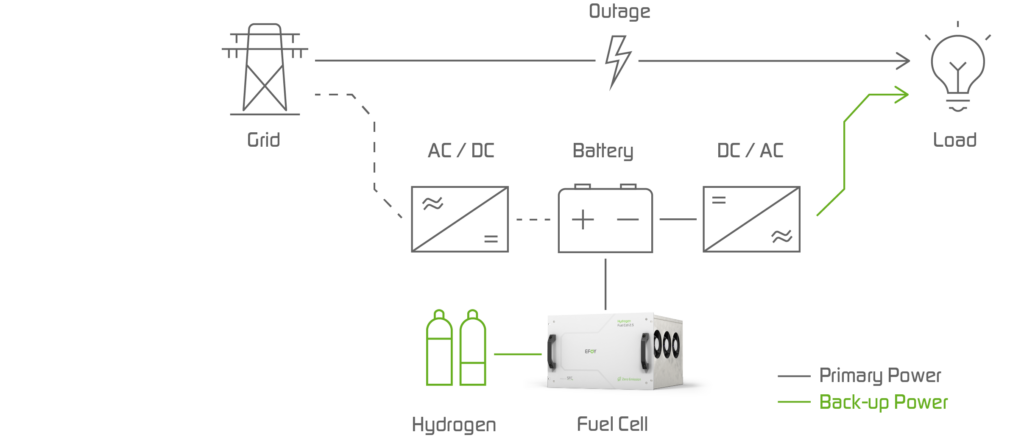 Applications
Can be used as stand-alone system, backup power system or as an uninterruptible emergency power supply for critical infrastructures (CI)
Security-relevant applications, such as digital radio for authortities and
organisations with security tasks (emergency services)
Energy, gas and water supply sectors
Mobile communications sector
Energy, gas and water supply sectors
Use cases
Network hardening of public authority radio in Germany
Emergency power supply applications for critical infrastructures such as gas utilities or telecom infrastructure for Italian telecommunications provider
Contact us
Interested? Please contact the vendor by filling out the contact vendor form.