Ultracool Circulation Chillers UC 80-100
LAUDA Ultracool circulation chillers set new standards in energy efficiency and connectivity. The new generation of Ultracool chillers was developed in compliance with the European Ecodesign Directive.
Thanks to the integrated web server, control via mobile devices and connection to the LAUDA cloud, the Ultracool circulation chillers also set standards in the digitalization of temperature control processes.
Developed with a focus on energy efficiency, the new LAUDA Ultracool circulation chillers make a pivotal contribution to reducing your operating costs.
Thanks to the innovative operating concept, the LAUDA Ultracool circulation chillers can be conveniently monitored and controlled from a distance – via a connected remote control or the integrated web server on a PC or laptop. A connection to the LAUDA Cloud allows device data to be saved, analyzed and used for remote maintenance.
Advanced technology for a broad range of applications.
Extensive technical innovation and a significantly expanded range of functions characterize the various LAUDA Ultracool devices and additional equipment options.
Custom options and a wide cooling output range make the new generation of LAUDA Ultracool circulation chillers the ideal solution for a broad range of industrial applications.
Key features
Energy efficient with cost-savings of up to 50 %
Advanced technology for hydrogen applications
Cooling capacity range between 39 kW to 124.7 kW (other versions available on demand with cooling capacity ranging between 2 kW to 240 kW)
Bi-frequent power supply with 50 Hz or 60 Hz
Working temperature range between  -10 to 35 °C
Highly efficient industrial chiller
LCD remote control with 8 m cable
Operation possible via web server
Electronic 2-point temperature control
Protection level IP 54 (for outdoor installation)
Industrial block pump with high pressure and high flow rate
Integrated water filter
Integrated Ethernet interface
Inlet and outlet water connections in stainless steel
Operates with non flammable liquids (water, water/glycol)
Meeting the energy efficiency requirements of the EcoDesign directive 2009/125/EC
Air-cooled condenser
Optional: Reinforced pump in stainless steel (5 bar)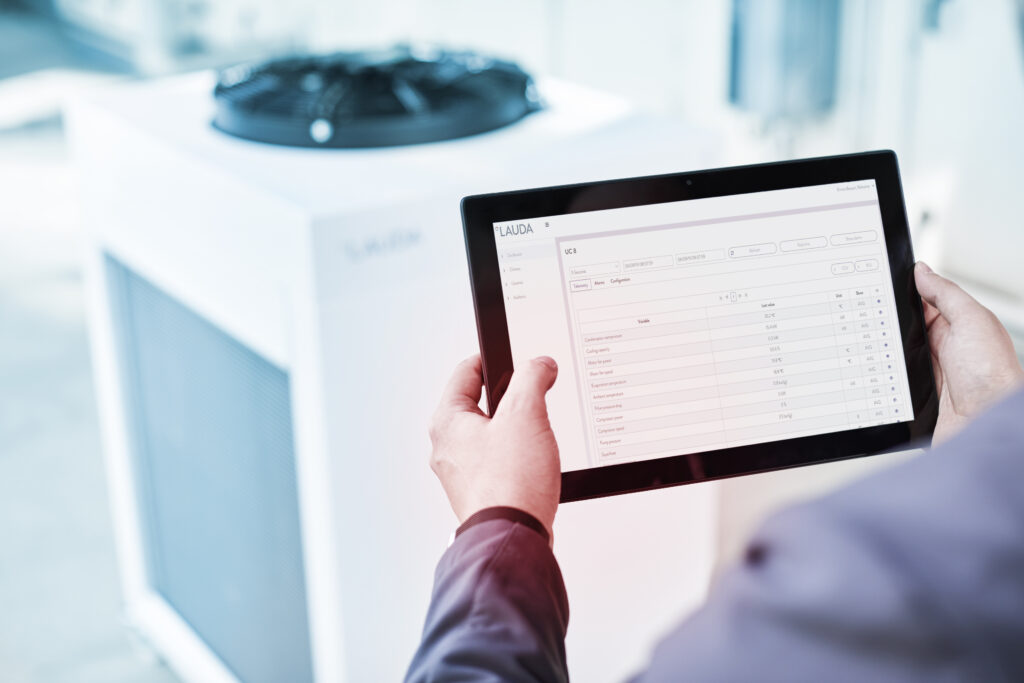 Applications
Cooling of electrolyzers
Compressor cooling
Testing in development and qualification / certification of components
Test benches for fuel cells and dispensers
Contact us
LAUDA Ultracool circulation chillers set new standards in energy efficiency and connectivity. Interested? Please contact LAUDA by filling in the contact vendor form.