Hydrogen diaphragm compressor
Our diaphragm compressors are the preferred choice for high purity and leak tight gas compression applications.
We design basic- to fully-instrumented leak-free, non-contaminating reciprocating diaphragm gas compression systems in accordance with customer specifications and API 618. Our compressors range in size from 3 hp(2 kW) to 200 hp(150kW).
Discharge pressures range from 50 psi to as high as 15,000 psi (1,100 bar) and typical flow rates based on compression ratio to 500 Nm3/hr.
A diaphragm compressor is a positive displacement machine which consists of a hydraulic system and a gas compression system.
Diaphragm compressors are somewhat traditional in the sense that the hydraulic system uses a linear reciprocating piston attached to a crank shaft that is driven by an electric motor. The hydraulic piston travels through a cylinder which moves a column of oil. This oil is used to lubricate the lower end running gear and to energize the gas process system
Product features
Non Contaminating Gas Compression:  The triple diaphragm set ensures that the process gas is completely isolated from the hydraulic oil. The compressor does not use dynamic seals eliminating the potential for seal particulate to be imparted to the gas stream. Filters and oil removal systems are not necessary – Hydraulic oil cannot migrate into the process gas.
High Compression Ratio: Our metallic diaphragm compressors can achieve typical compression ratios up to 10:1 for certain models.
Superior & Extended Diaphragm Life: All aspects of diaphragm compressor design are intended to enhance component life, improve operability and reduce and simplify maintenance.Diaphragm cavity contours, which control stress in the diaphragms, are carefully controlled to provide uniform stress distribution. Special manufacturing processing is used on the diaphragm surfaces to enhance fatigue life. Many of our customers have experienced continuous running times of 10,000 to 40,000 hours between routine maintenance minimizing the need for spare parts replacement
Variable Suction Pressure: PDC compressors are capable of sub atmospheric as well as high suction pressures. Compressors can be used in in applications requiring low or high compression ratios. And for applications requiring intermittent or continuous service duty. Many of our customers have experienced continuous running times of 10,000 to 40,000 hours between routine maintenance minimizing the need for spare parts replacement
Unique Oil Distribution System: The hydraulic system is designed in such a way as to assure uniform diaphragm deflection, prevent knocks, vibration, cavitation and yield smooth, quiet compressor operation
Fast Acting Leak Detection System: To detect and indicate diaphragm and seal failure.
Safety Interlocks: The compressor will be completely instrumented for safe and automatic operation.
Environmentally Safe: Our diaphragm compressors use static seals. There is no migration of gas to the crankcase as such the crankcase does not require purging or venting. The gas system integrity is monitored to preclude leakage of gas to the atmosphere.
Safe Compression of Corrosive Gases: We use non-flammable hydraulic fluid and all process-wetted components which are constructed from corrosion-resistant materials for processing of corrosive or oxidizing gases for safe operation and which will prolong the life of maintenance components.
High Discharge Pressure: PDC's gas diaphragm gas compressors are capable of providing discharge pressures to 15,000 psig/1,000 barg and beyond.
Automatic Unloading System: The compressor is automatically re-primed at start-up. Manual start-up requires an experienced compressor technician to be present all the time to re-prime the compressor. Incorrect priming will cavitate the compressor and damage the heads, bolts, diaphragms, o-rings, process and hydraulic system.
Quiet Operation: Below 85 dBA @ 1 meter without sound-proofing enclosure.
Low Maintenance: Typically, only routine oil changes are necessary.
Low Energy Costs: PDC compressors use a heavy flywheel to provide energy. In addition, Duplex and two-stage diaphragm compressors can be horizontally opposed designs to further reduce horsepower requirements and energy usage.
International Standards Compliance: PDC's' diaphragm compressors can be designed and certified to comply with Canadian, European, South Korean, Japanese, North American and other international codes and standards
ISO 9001 Quality Management: PDC is certified according to ISO 9001 standards for quality management of production and services.
Key benefits
Maximum Uptime
Environmental Safe
Very High Discharge Pressure
Low maintenance cost
Flexible operation
Long Term Performance
Diaphragm compressor components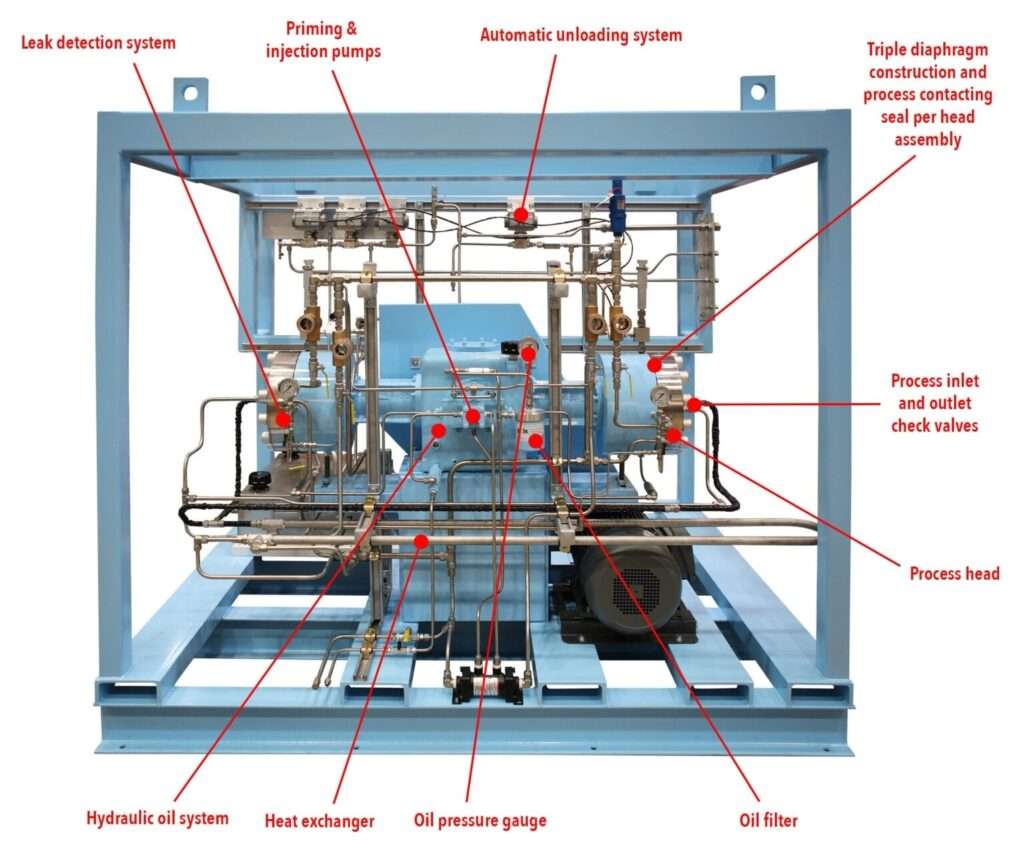 Application areas
PDC Machines' compressors are used in virtually every industry in which high-purity, rare, or hazardous gases are utilized.
Flat glass production
Filling gas cylinders and bulk storage tanks
Flammable, oxidizing, toxic, and radioactive gases
Pressure boosting and storage of gases from on-site gas generation systems
Hydrogen powered fuel cell vehicles
Hydrogen powered fuel cell trucks
Hydrogen powered fuel cell buses
Hydrogen Refueling Station
Watch our recent webinar
Contact us!
By using our experience, knowledge and technology, we at PDC Machines are able to meet your requirements with precision and accuracy.