Reversible Fuel Cell System Powerbox
Electrolysis and fuel cell principles in one device that can be placed inside
Hydrogen storage in high pressure storage tanks, placed outside
The system is designed to convert electrical renewable energy (solar/wind) or energy from play-the-grid mode, into green hydrogen (electrolysis process) that can later be converted again into electricity and heat (fuel cell process)
All the Solenco Power products have a CE declaration and are in conformity with the essential requirements for hydrogen systems and hydrogen storage.
With our dashboard, the customer can constantly follow up on the performance of the box, the hydrogen level, pressure, water temperature, energy consumption etc. Projected yearly savings can be monitored.
Working principle
Electricity needs are covered by the solar panels during day time and only the surplus is sent to the SPB™ to be stored as hydrogen. When there's no sunshine, electricity, and heat are produced by the SPB™ from the stored hydrogen.
Hydrogen can be stored for days, but also for months or even entire seasons.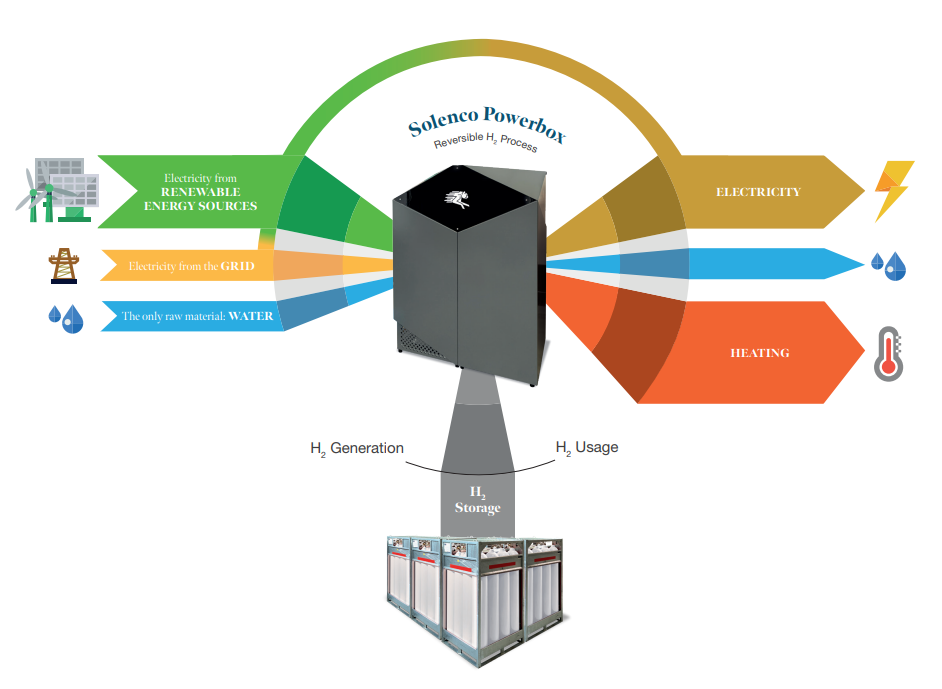 Components of reversible fuel cell system
The Powerbox has the following integrated components that work seamlessly together and are controlled via a cloud enabled software platform:
Electrolyser mode
Fuel cell mode
Power electronics and AC/DC rectification and conversion
Water treatment system
Hot water tank and cooling loop
Safety system
Smart energy software control system
*The hydrogen compression and storage are not integrated and are done in gas vessels that are certified for high pressure hydrogen storage.
Key features
Long duration energy storage
Green solution for your energy demand
High energy self-sufficiency or even energy autonomy
Dimensions with 200l hot water storage tank: 82 x 140 x 180 cm
Dimensions of the hydrogen storage tank: 99 x 99 x 194
The Powerbox can be delivered for indoor or outdoor applications.
Application areas
Long duration energy storage
Stationary applications
Project cases
Single- and multi-family housing: villas, housing complexes, housing communities, apartment buildings
Offices, cultural affairs, and community buildings
Contact us
Solenco is your partner for reversible fuel cell technology. Fill out the RFQ form or the contact vendor form to contact the vendor.