Hyundai HTWO Fuel Cell System
Hyundai HTWO is a fuel cell system based hydrogen business brand of Hyundai Motor Company.
Hyundai Motor Company, a traditional automobile manufacturer, has been at the forefront of ushering in the hydrogen economy with its world's first commercialization of fuel cell electric vehicle (FCEV), 'TUCSON ix35', in 2013 followed by its commercialization of the flagship FCEV, 'NEXO', and heavy-duty FC truck, 'XCIENT Fuel Cell'.
With proven and mass-produced fuel cell technology utilized in the automobile sector, the company made the decision to expand the provision of fuel cell technology to other automobile OEMs and non-automobile sectors such as maritime, railway, and power generation.
In December 2020, the company introduced its brand HTWO and continues to develop new hydrogen business opportunities for a better future for all.
Main Specifications

HTWO Fuel Cell System achieves outstanding fuel efficiency
The 2nd generation of our fuel cell system provides an outstanding fuel efficiency of up to 62%
The key systems components have been optimized in order to achieve this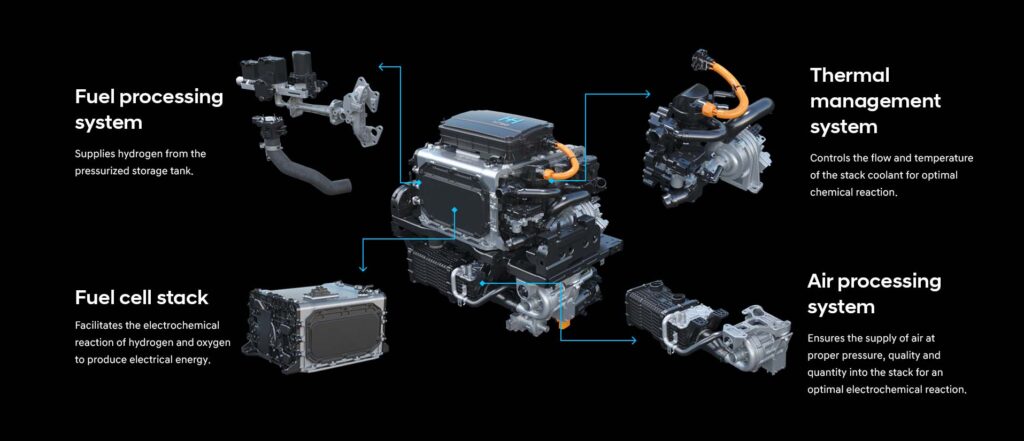 Improved cost competitiveness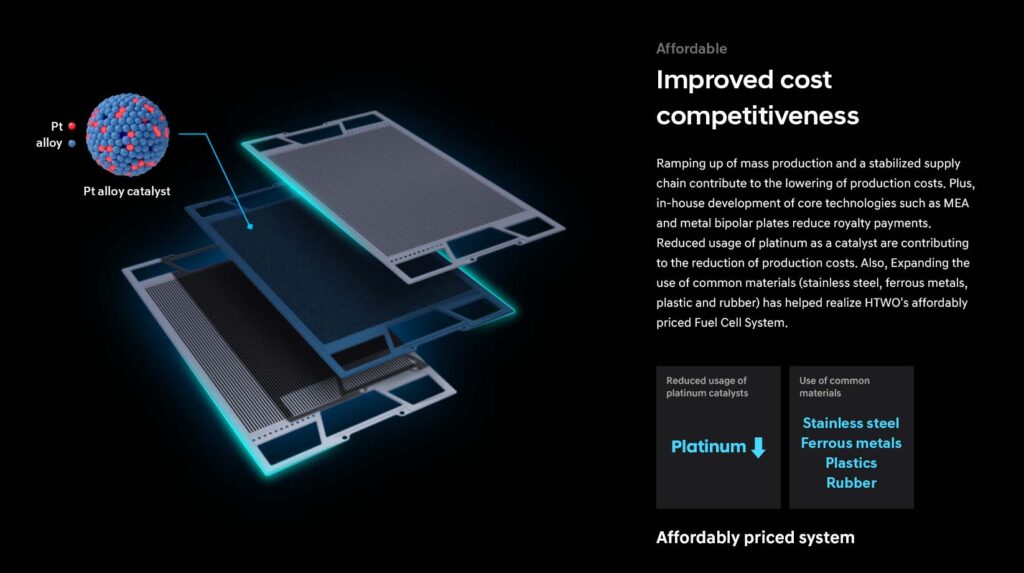 Key benefits of our fuel cell systems
World-class Technology
– World's 1st commercialization of FCEV "Tucson ix"
– '10 Best Engines' (WardsAuto, 2015, 2019)
– High Power Density (0.21kw/L)
– Compact Size & Volume with Lightness
– Outstanding Efficiency (Peak Value: 62%)
Total Engineering Service
– Customized Solution with HMC's Original Technology
Performance under Extrems
– Customized Solution with HMC's Original Technology
Stable Production Capacity
– Ready for Mass Production
– Annual Capacity(2030) : 700,000 Units
Trust with Experience
– Excellent Customer Care and Quality Control System as Global Top 5 Automotive Manufacturer
Our fuel cell system delivers solutions in many application areas
passenger vehicles, trucks, buses, trams/trains, forklifts, emergency power systems or ships (see the video)
Hyundai is driven to build the hydrogen society
Our fuel cell systems can be combined to deliver heavy duty solutions
Contact us today – let's build the hydrogen society together!
We are driven to scaling our fuel cell system with new partners globally to further contribute to the hydrogen society.
Simply use the contact form on Hyfindr to get in touch with us. Your request will be delivered to the right person.
Do not wait – partner with one of the iconic brands in the hydrogen economy.
We are committed to providing all the services you might need for your fuel cell project – globally!