Fuel Cell Module T600 Series (60 kW)
Loop Energy fuel cell modules are carefully engineered to deliver industry-leading performance and cost of ownership benefits for each target application.
Each product category is precision tuned to produce an unmatched combination of fuel efficiency and peak power in its class.
Designed for seamless integration, our fuel cell modules are significantly smaller and lighter than most alternatives and are backed by Loop's unwavering commitment to customer technical support.
We have worked closely with customers to ensure each fuel cell module in our portfolio is designed with consideration to target operating duty cycle requirements, integration space envelop availability, as well as capital and operating cost constraints.
Benefits
Powered by eFlow™ stacks: industry's most advanced fuel cell architecture
Lowest cost of ownership enabled by our leading fuel efficiency
Unmatched peak power capabilities in a small footprint
Highly uniform power density across each plate's entire active area
Versatility either as a ready-to-use solution for quick deployment, or a custom solution for
integration into any vehicle architecture
Suitable for a wide range of operating challenges including weather and terrain
Loop Energy eFlow™ provides for up to 10x power density uniformity
Our eFlow® architecture enables critical features that are unique to Loop Energy's fuel cells:
Even heat distribution provides greater product durability​
Up to 10x better current density uniformity​
Lower service and maintenance costs
This translates to our ability to operate at >100% condensing humidity without the issue of "flooding." This eliminates over 50% of the key reasons for fuel cell performance degradation.
What does all of this mean to the operator?
Higher operating uptime
Significantly less maintenance
More robust fuel cell performance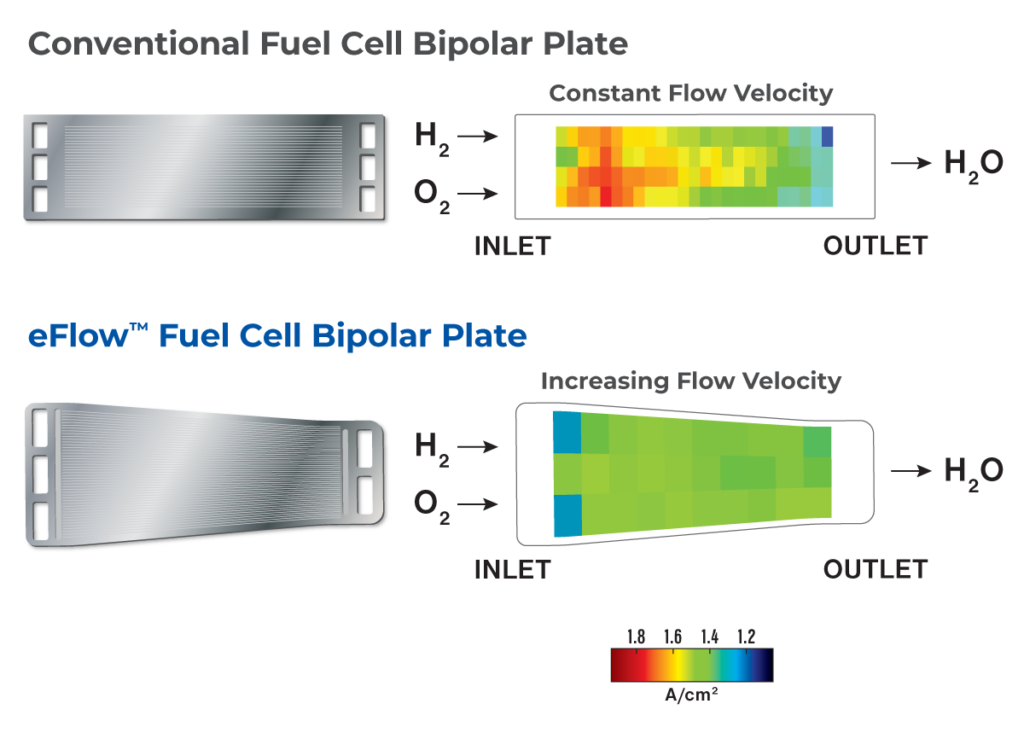 Loop Energy eFlow™ provides for increased peak power
Peak power is the key to optimum balance between space, cost and performance. Our eFlow® architecture enables significantly more peak power versus the same class fuel cell alternatives:
Up to 90% more peak power vs. competitors in comparable package size
Higher payload capacity and range
Wider range of operating parameters
What does all of this mean to the operator?
Almost 2x greater ability to match seasonal, terrain or payload related increase in drive cycle kWh/Km energy requirements, without overbuilding the most expensive part of the system: the fuel cell stack
Reduced system weight and size. For example, our T600 60kW unit is 75-100 Kg lighter than most alternatives
Loop Energy eFlow™ provides for increased fuel efficiency
Fuel efficiency is already the number one driver of Total Cost of Ownership (TCO). It will become more important as product costs mature. Our patented eFlow® technology enables us to deliver:
Up to 16% higher fuel efficiency vs same class alternatives
Lower fuel consumption per distance driven
Reduction in fuel cost over the lifetime of every vehicle
What does all of this mean to the operator?
Fleet operators can capture up to hundreds of thousands of dollars in savings for each vehicle in their fleet. Imagine multiplying that by the number of vehicles in a fleet!
Fuel consumption savings also translate to higher operational uptime, wider radius or longer distance for driving range.
This can also mean reducing system weight and size, which can mean reduced system cost, increased payload, or simply a higher flexibility in the vehicle's design.

Watch the video about our revolutionary eFlow technology
Total customer care program
To ensure our OEM customers are well taken care of, Loop Energy has gathered our most qualified industry partners to ensure that we can offer a complete solution for hydrogen fuel cell conversion. In addition to our support team and integration team here at Loop Energy, manufacturers will also have access to our network of tested, tried and trusted suppliers. Our intent is to provide a peace-of-mind so that the development of their hydrogen fuel cell vehicles, equipment and other powered products can be as smooth and efficient as possible.
Loop Energy customers have access to:
A directory of Qualified Ecosystem Partners for an integrated solution
Suppliers that are quality-tested to install seamlessly with our hydrogen fuel cell solutions
An ecosystem carefully chosen by Loop Energy to create a circle of trusted network of suppliers to source from
Application areas of our T600 Series
Transit buses
Terminal tractors
Medium duty vehicles
Find out more
Visit the download section of this page to see all the documentation offered.
A more efficient way is to contact! Fill out the contact form and we will address your any questions you may have.
Contact us!
Let us help you explore your hydrogen electric vehicle options. Contact us and file out the form to start working on your projects.