Engines redefined – Nuvera® E-Series Fuel Cell Engines are the answer for modern emission-free mobility
Nuvera's line of high-performance E-Series power systems simplifies the integration of fuel cells into electric vehicle powertrains
With controls and interfaces that replicate the design and use of internal combustion engines, Nuvera E-Series Fuel Cell Engines enable the electrification of material handling equipment, buses, trucks, marine vessels, and other medium- and heavy-duty platforms
As important as technology and performance, Nuvera's fuel cell engines are backed by integration support worldwide, both remote and on-site
Advanced controls for Nuvera® Fuel Cell Engines enable simpler, faster vehicle integration
Nuvera's Engine Control Unit (ECU) has evolved over decades to maintain conditions within the stack stack for long life and optimal performance
The Nuvera® Fuel Cell Engine communicates with the vehicle control unit using standard CAN 2.0B protocol
Our Stack Technology
Nuvera's eighth-generation stack offers unique fuel cell technology that distinguishes our company and our range of power solutions for OEMs.
High performance for motive applications in outputs ranging from 10 to 100 kW and higher
Ease of integration provided by optimized control logic
Patented fuel cell technology that enables a winning combination for cost, compactness and durability
As a long-established and specialized PEM fuel cell systems developer, our engineering teams bring extensive experience in both fuel cell stack design and hybrid fuel cell powertrain development. Our predecessor companies offer over 90 years of innovative electrochemical technology development background that Nuvera has built on to deliver competitive commercial products.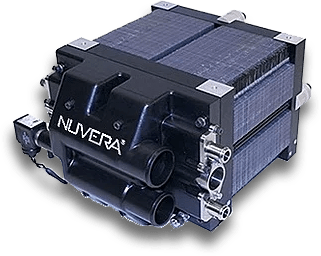 Nuvera® E-Series Fuel Cell Engines include:
8th-generation Nuvera® fuel cell stack
Engine control unit
Water management algorithm
Air compressor
Coolant pump
Coolant thermostatic valve
Hydrogen ejector
Bleed resistor
Power output electrical contactor
Power output pre-charge circuit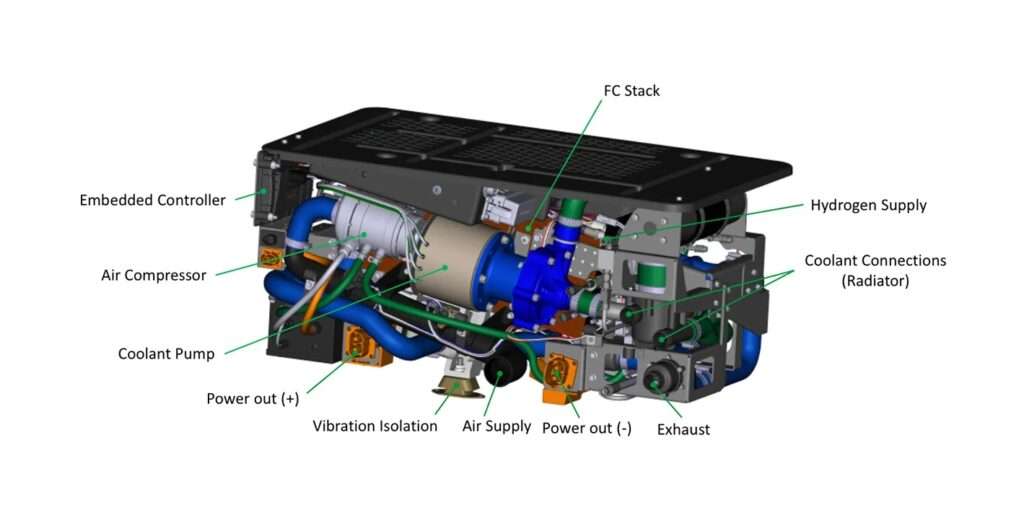 Our products have many application areas
Material handling equipment
Buses
Trucks
Marine vessels
Other medium- and heavy-duty platforms

Production and Customer Integration Support
Nuvera's automated production processes allow us to manufacture fuel cell engines at industrial scale in state-of-the-art manufacturing facilities
Nuvera provides global integration support to customers through its applications development teams in China, Europe and North America
Nuvera is on a mission
Nuvera® Fuel Cell Engines provide limitless possibilities for zero emission mobility. Watch our videos.
Contact us now!