Scope of services
AVL Fuel Cell Canada performs cutting edge PEM fuel cell development for all applications, including automotive, heavy duty and marine. We leverage the knowledge of top fuel cell experts for our clients. We work with leading OEMs with the target of developing or improving PEM fuel cell stack designs. We offer state of the art PEM fuel cell testing services, including performance, degradation and characterization tests in line with international testing standards.
AVL Fuel Cell Canada can support customers from initial prototype tests, all the way through start-of-production (SoP) and factory end-of-line-tests (EOLT).
We can perform the following type of tests:
Accelerated Stress Tests (ASTs)
Life-Cycle Tests (LCTs)
Design Validation Plan & Report (DVP&R)
Freeze Start-Up (FSU) Tests (-30 °C), Freeze-Thaw Tests
Sub-Scale Characterization (catalyst kinetics, electrochemically active surface area/ECSA, loss analysis, proton conductivity, H2 pumping)
Single-Cell Testing & Short Stack Testing (operating conditions, development testing, cyclic voltammetry/CV)
Full Size Stack Testing (polarizations, sensitivity testing, pressure drop)
Leak Testing & Bleed-Down Testing
Start-Up/Shut-Down Testing (air soak, H2 soak, hydrogen protection time, oxygen depletion)
Degradation testing and analysis (Pt dissolution & agglomeration, carbon corrosion, catalyst oxidation, catalyst migration (Pt in the membrane), reversal tolerance)
Ex-Situ Component Testing (GDL compression, conductivity, MEA strength testing (INSTRON))
Stack & Cell Benchmarking (comparison vs DoE standards or incumbents)
AVL Fuel Cell Canada – take a tour
Our Equipment

We can perform a variety tests in our climate chambers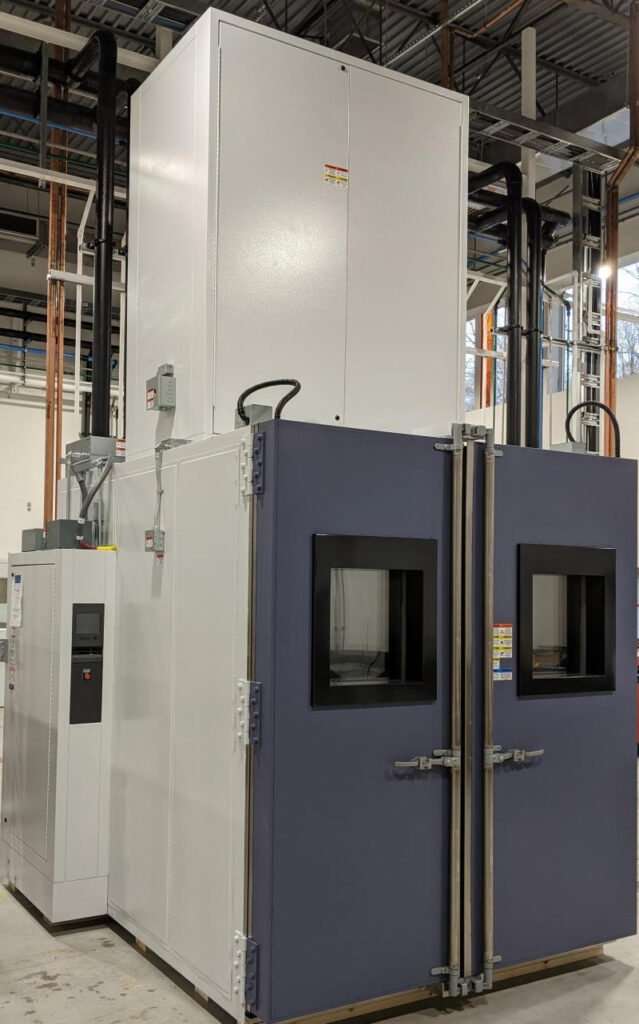 Contact us!
AVL has all the equipment and experience needed to test you fuel cell stack. We would be delighted to learn your requirements.