Ingenion – Realization of Hydrogen Infrastructures
Planning & realization

Construction preparation and implementation:

As an experienced planning office, they successfully guide your project through the approval process, take over the design planning and, together with long-standing partners, carry out the construction of your hydrogen infrastructure.
Whether as EPC contractor or in partial areas – the choice is yours.

Project- & stakeholder management:

Time, Cost, Quality – the three most important criteria of agile project management are also at the forefront of Ingenion's work.
20 years of experience in managing, conceptualising, controlling and realising projects speaks for Ingenion's transparent planning and their well-thought-out management.
Ingenion always keep in touch with the relevant stakeholders, involve them in the project in good time if necessary and often accelerate participations and processes as a result.

Operation & Services:

Your hydrogen infrastructure is ready and now? Don't worry, if you like, Ingenion will stay and ensure proper plant operation, carry out maintenance and repairs.
Ingenion are your holistic partner – always at your side.

Pre-application consultation to identify expert opinions to be provided and including official contacts.
Approval management including preparation of application, coordination of external companies (if necessary) and discussion meeting.
Realization of the construction project up to commissioning by approved test centres.
In short, Ingenion are active in all areas required for the construction and operation of hydrogen infrastructures and can even provide the supply of green hydrogen under certain circumstances.
Ingenion are a dynamic team of engineers, IT experts and project managers and are constantly growing – today their team of various experts already includes a strength of about 70 employees.
Regardless of your business field, requirement or problem, Ingenion deals with challenges in an agile manner and find solutions in the interest of our customers.
In mid-2022, Ingenion's first hydrogen realisation goes to market – 2MW electrolysis produces green hydrogen for maritime applications in Cuxhaven.
From checking the technical and economic feasibility to approval management & project realisation to the turnkey solution, as an EPC contractor Ingenion takes on all project-related services – completely or step by step.
Key benefits
Established partner in the energy sector with 20 years of experience in challenging consulting & implementation projects.
Realization of an own 2MW electrolysis project for the use of hydrogen in the maritime sector already implemented – further projects in preparation.
An extensive network in various fields (e.g., politics, finance, power sector) and can use these contacts to influence your project in a value-adding way.
Experienced staff with a hands-on mentality, an entrepreneurial approach and the ability to think "out-of-the-box".
Use cases
Preparation of various studies and design of various hydrogen plants.
Realization of a 2MW electrolysis plant for the maritime use of hydrogen in Cuxhaven.
Planning of a simple hydrogen refueling/loading system for supply ships.
Ownership of fuel cell systems for the energy supply of maritime propulsion systems.
Project preparation for industrial production of hydrogen in other european countries (>400 MW electrolysis capacity).
Project preparation to produce hydrogen that will supply tugboats and construction vehicles with hydrogen (>15 MW electrolysis capacity).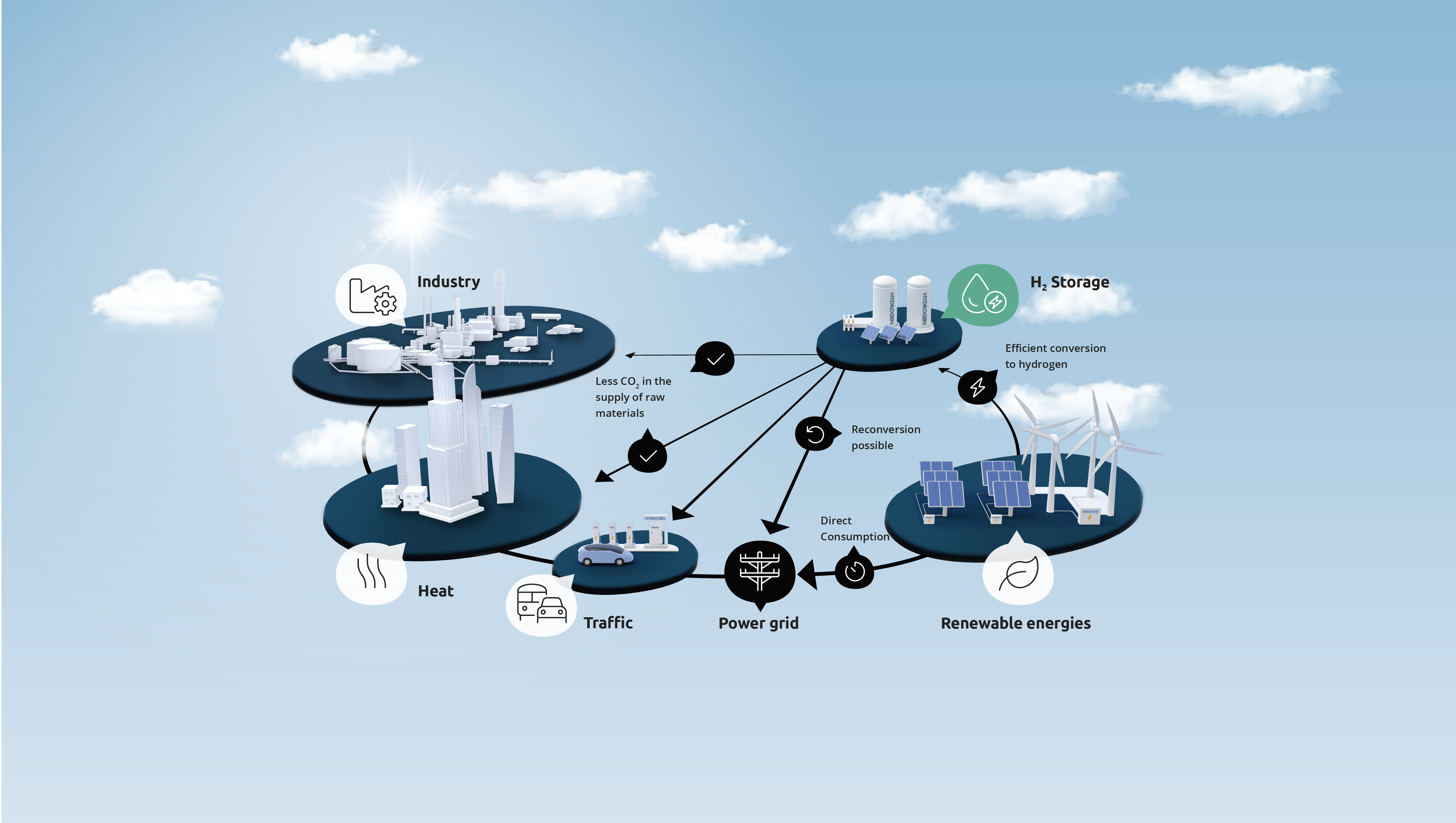 Contact us
Interested? Please contact Ingenion by filling in the contact request form.