Fuel cell system integration services
AVIA Ingeniería is both an engineering services supplier and a vehicle manufacturer (for individual units or fleets). As an engineering company, we are into alternative powertrains and vehicle engineering. We are specialized in industrial and special vehicles. Concerning industrial fuel cell electric vehicles (FCEV), we are active in the medium and heavy duty area.
Technology and Feasibility Study – Screening and assessment of technology options including TCO and LCA study.
Target Definitions and Drive System Specifications – Vehicle target setting, powertrain architecture selection and component sizing supported by system simulation (commercial softwares or in-house developed tools).
System Design (Mechanical, electrical and thermal) – Mechanical (including thermal) and electrical design for the integration of all powertrain components supported by CAD/CAE softwares.
Vehicle Manufacturing – Starting from a used vehicle/glider or a brand new vehicle/glider, vehicle manufacturing in AVIA Ingeniería´s own workshop.
System Integration Test – Static tests for sign-off of electrical and control design.
System Calibration and Target Verification – In-vehicle and on-road system calibration and target verification for development activities and vehicle sign-off.
Homologation and Short Series – Handling of documentation and testing activities for European Community Whole Vehicle Type Approval (ECWVTA) carried out at accredited technical services (EU only).
After Market Service and Field Support – Field technical assistance, spare parts distribution and customer care.
Analytics – Vehicle can be equipped with a telematics controller which interfaces with vehicle CAN bus and connects to our data servers over an encrypted 4G connection. This allows to monitor the key parameters of every vehicle and forms the basis of the valuable analytics service for our customers.
Key benefits of working with AVIA Ingenieria
Proprietary and application specific software for Vehicle Control Unit (VCU).
One-stop shop approach ensuring smooth project execution.
Vehicle manufacturing is performed in AVIA Ingeniería´s own workshop.
High level of flexibility for vehicle customization.
Wide range of in-vehicle testing services for fuel cell systems under real world conditions.
Recent project examples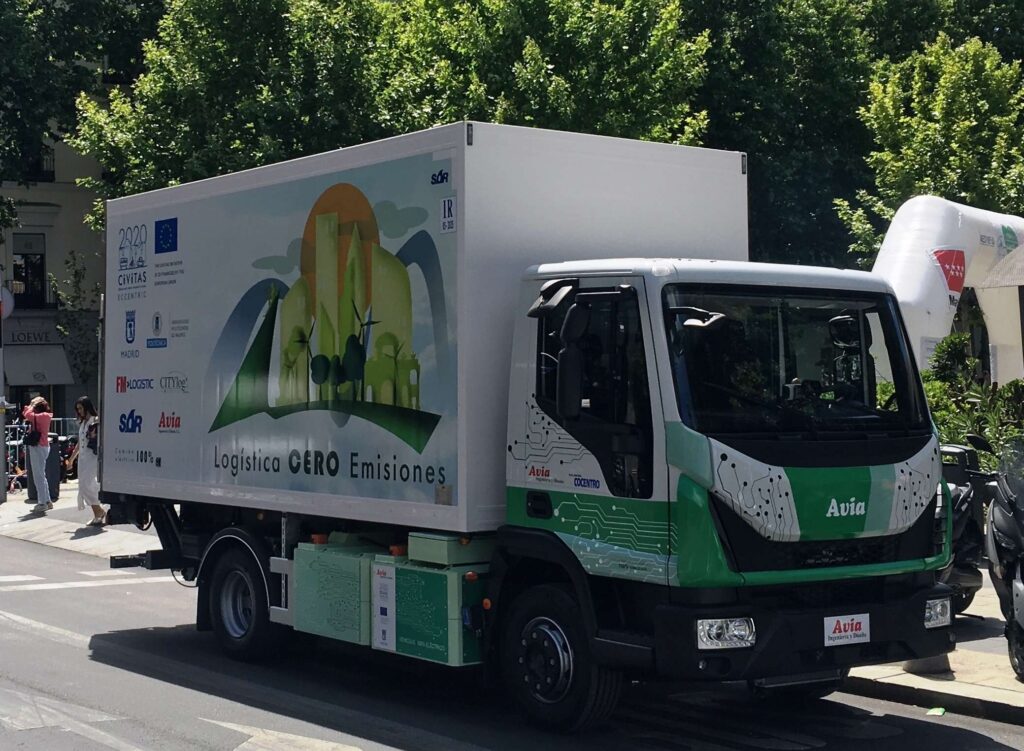 Application areas
Fuel cell electric vehicle design and development
Fuel cell electric vehicle testing
In-vehicle testing of fuel cell systems and related components
Contact us!
We are looking forward to carrying out integration of fuel cell systems in vehicles for you.