Stack assembly equipment – basic+
Stack assembly equipment basic+ is used for fuel cell stack and electrolyser stack assembly
The main challenge in stack formation is the precise positioning of bendable components with sensitive surfaces.
Ruhlamat can benefit here from its many years of expertise in the production of RFID inlays, in which, among other things, several thin foils must be placed on top of each other with dimensional accuracy.
In addition to a semi-automated assembly solution for small series, with an annual production capacity of approx. 3,000 stacks/a (reference 330 cells), we also offer a fully automated solution for an annual production capacity of up to 50,000 stacks/a. Here, too, the focus is on scalability and the ability to upgrade the production plant at a later date.
Customized part feeding (magazine, single part feeding,…)
Easy operator access for manual operation (placing components manually)
Automatic stacking with automatic deviation correction system to ensure the consistency of stack manufacturing
Variable platform adaptable for customer specific stacks
Modular platform: combinable with pressing module
Workshops for optimization of component designs
Customized part feeding (magazine, single part feeding,…)
Features
To start up automatic stacking process
Optional 2 robots
Positioning tolerance of the components ±0.1mm, by means of offset camera system
Stacking presses with up to 100t
Force/displacement controlled servo press
Movable pallet for easy manual stacking outside the press or easy loading of the stack into the press
Max. Stack size: 650mmx500x1000mm (length x width x height), others on request
400mm stroke as standard (up to 750mm possible)
Suitable for small batch production (cycle time with 2 robots per cell: 3-4s)
Access to our network
Implementation of customized concepts
Components
Key components of  fuel cell and electrolyser stack assembly – basic+ are listed as below.
Part handling
Part feeding
Stacking position
Stack pressing
Measuring unit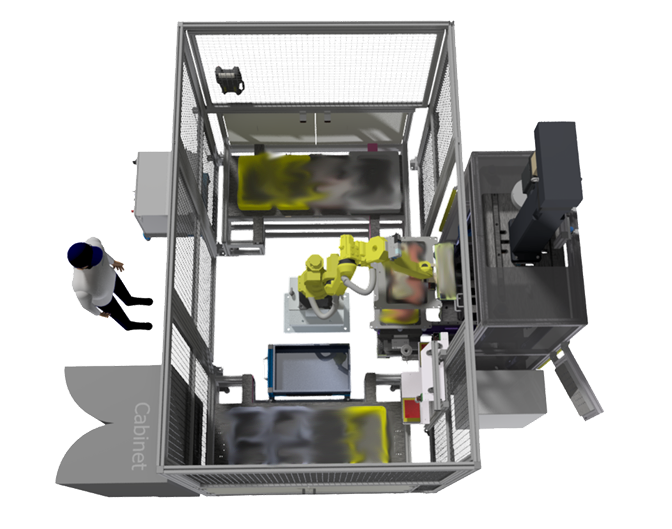 Benefits
Customer-specific component fixtures
Number of parts to be stacked customer-specific
Customized grippers according to component design (interchangeable grippers if required)
Fully customized versions are of course possible. Feel free to contact us!
Camera system for part inspection (bad part)
Easy operator access for manual operation (placing components manually)
Close technical advice will be offered
Application areas
Labor/sample production
Small batch production
Use case
Stacking of Fuel Cells and Electrolyser
Watch our fuel cell stack assemble line in action
You want to start your automation efforts like a pro?  Start with ruhlamat and contact us!
Once we understand your basic requirements we will design an automation solution for you – free of charge with no strings attached.
Our engineers are capable of highlighting efficiency gains on the spot. Why would you miss that opportunity?
Contact us ! We are inspired to learn about your scaling target.