VOSS SOV low pressure shut-off valve
Safety valves with low power consumption for the entire hydrogen system.
Low-pressure shut-off valve (SOV) for shutting off the line system between the pressure regulator and the fuel cell for nominal pressure 5 bar to 30 bar.
Temperature range: -40 °C to +85 °C.
Weight: ca. 200 g (depending on variant).
Port: VOSS Lok40  or customizable.
Supply voltage: 12 -4/+5 V.
Product CAD drawings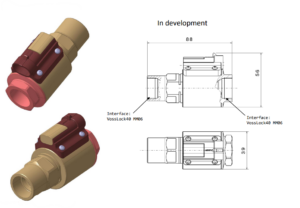 Contact us
We are keen to learn about your requirements. Fill out the contact form on this page to contact us!