VOSS on tank valve
Extremely light and compact interface between vessel and tube system for refueling and withdrawal the hydrogen.
For the application of gaseous hydrogen.
Consisting of various safety-related valve types and a filter system.
Nominal pressure: 700 bar/15 °C (maximum working pressure: 875 bar/85 °C).
Interface for high-pressure connection:

2x VOSS Lok40 MM06 studs (metallic sealing).

Mass flow:

Fueling: max. 60 g/s.
Defueling: 0-3 g/s (p>35 bar), 0-2 g/s (p>20 bar).
Product CAD drawings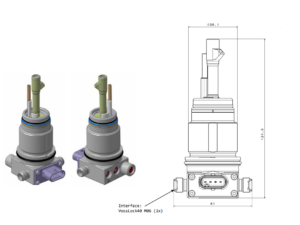 Contact us
We are keen to learn about your requirements. Fill out the contact form on this page to contact us!