H-300U Series – Integral – Bonnet Needle Valve
The bonnet needle valve H-300U series is an advanced high-pressure instrumentation needle valve for regulating service. The packing bolt design, featuring easy mounting, provides the best solution for instrumentation panels.
This compact valve enables a relatively high level of flow regulation and long-life service. Special stem surface treatment, based on low temperature carbon diffusion, enables higher surface hardness with improved wear resistance, resistance to system contaminants and low operational torque.
Every H-300U series needle valve is cleaned in accordance with Standard Cleaning and Packaging (procedure 8184). Oxygen Clean & Lubricant-Free Cleaning and packaging, in accordance with Special Cleaning and Packaging (procedure 8185), is available as an option.
The H-300U series needle valve design has been tested for proof and burst. Every H-300U needle valve is factory tested with nitrogen at 1000 psi (69 bar) for leakage through the packing and seat. The maximum allowable leakage across the seat is 0.1 std cc/min. No detectable leakage is allowed during shell test.
Key features
UCT Fluid Solutions H-300U series has a straight and angle pattern
MAWP 5000 psi (345 bar), MAWT 446F (230°C)
Flow coefficient (Cv) 0.09 to 1.8
Round plastic, round aluminum, and metal bar handles
Packing bolt for easy panel mounting, no packing disassembly is required
Metal bar handle is compact and designed with a shaped profile
H-300U series is designed with a male packing nut for a longer lifetime, easy and safe paneling while keeping original valve performance.
The H-300U series is built with 2-panel nuts for easier troubleshooting on system construction and faster installation
H-300U series is built with Live-Loaded Chevron packing for better leak integrity and lower operating torque.
The H-300U stem is hardened with special synthetic, anti-seize stem lubricant diffusion surface treatment for improving the corrosion resistance and eliminating galling and particle generation.
Variety of stem types
Product chart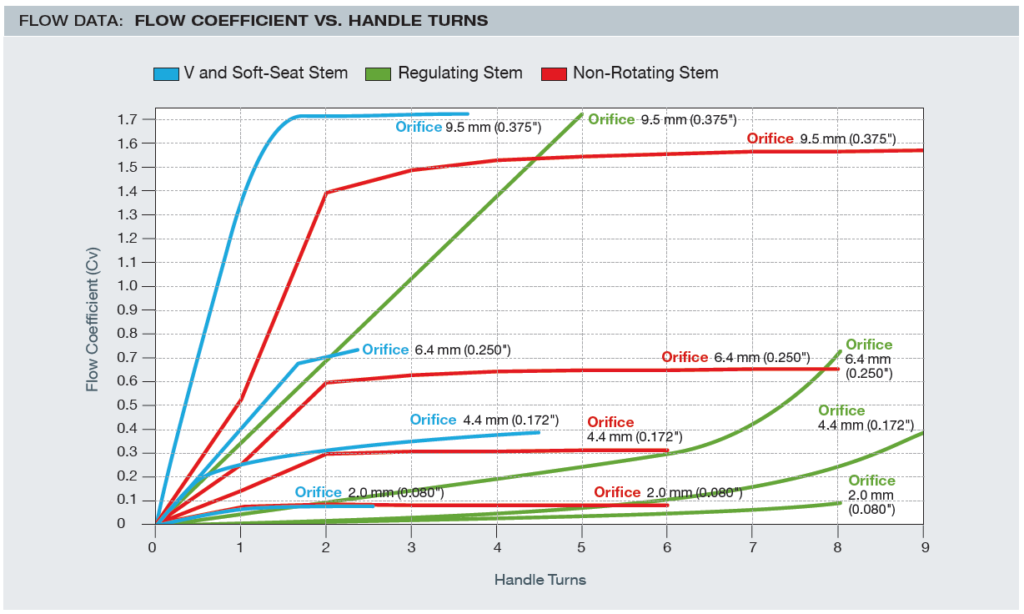 Application areas
Electrolysis
Electricity generation wind and solar
Hydrogen storage
Fuel cell stations
Process system control and shut-off
Control panels
Contact us
Please see the technical datasheet under downloads for mounting configuration of bonnet needle valve (H-300U series). Fill out the contact vendor form to contact us today.