VOSS end plug unit
End plug unit for hydrogen tanks with integrated thermal safety relief valve and tube connection for vent line.
Individual alignment for line connection possible.
Temperature range: -40 °C to +85 °C.
Nominal pressure: 700 bar/15 °C (maximum working pressure: 875 bar/85 °C).
Temperature pressure relief device: 110 ±5 °C.
Weight: ca. 520 g.
Product CAD drawings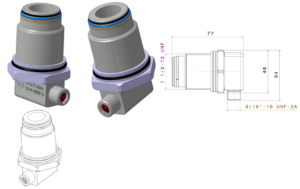 Contact us
We are keen to learn about your requirements. Fill out the contact form on this page to contact us!