Hydrogen back pressure regulators Equilibar® GSD and LF series
Equilibar GSD and LF  series back pressure valves control their inlet pressure to regulate the upstream process by opening up only as much as necessary to hold back the desired pressure at the inlet.
The LF Series are part of Equilibar's patented multi-orifice design, in which more orifices open up as needed to accommodate increasing flow requirements. This design offers the highest possible precision in multi-phase flow applications.
The GS Series back pressure regulators are used for gas, liquid or mixed phase fluid control and are ideally sized for pilot plant or manufacturing scale applications. They range in port size from 1/4″ to 1″.
LF regulators come in 1/16″, 1/8″, and 1/4″ port sizes, designed for lab scale processes.
Key features
The Equilibar valve is a dome-loaded pressure regulator with pilot operation. This means that gas or air is fed into the top (dome) area of the regulator to provide the pressure setpoint for the process.
The multi-orifice fluid path offers superior precision especially for low flow rates, gas and mixed phase fluids, corrosive media, and extreme temperatures.
Unique supple diaphragm is the only moving part, resulting in frictionless operation and instantaneous response to changes in process flow or pressure conditions.
Easily automated using an electronic pressure regulator to set the setpoint for the dome-loaded operation
Provides excellent pressure control of H2 and O2 gas streams in water electrolysis, level control of alkaline solutions, and can be used for flow control
Application areas
Equilibar back pressure regulators are used for precision pressure control of gas streams in the electrolysis process. The dome-loaded design can facilitate pressure control of each stream, or dP control between the two streams
Electrolyzer Back Pressure Control
High dp flow control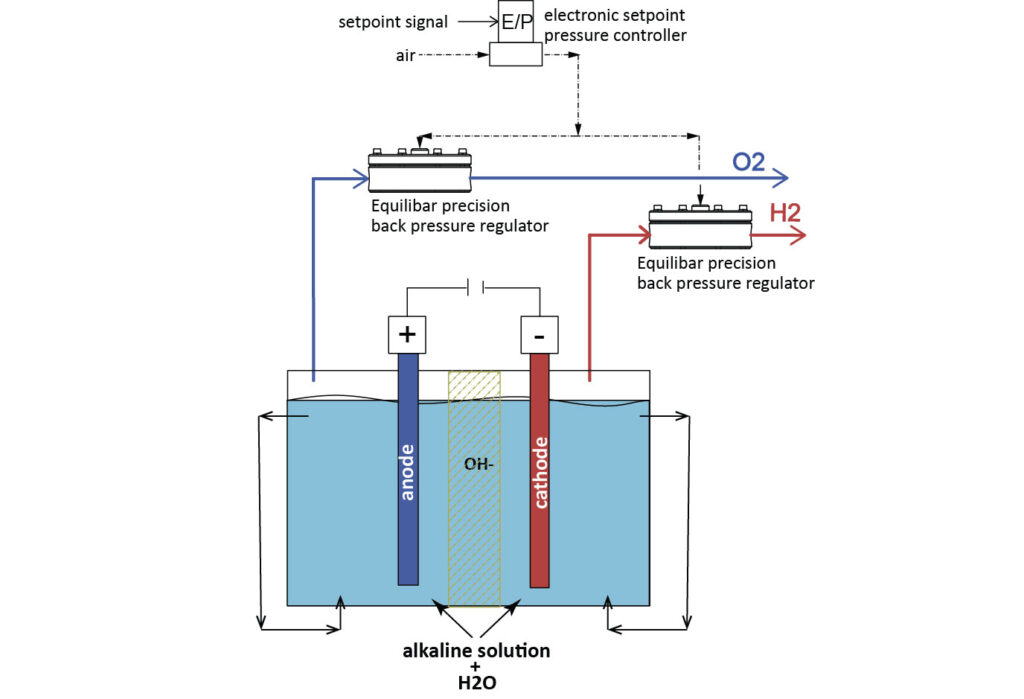 Hydrogen Back Pressure Regulators Equilibar Product Demonstration
Contact us
Equilibar is your partner for hydrogen back pressure regulators. Contact us – we are looking forward to discussing your application.