Cryogenic Globe Valve FullX – Type 11C01
HEROSE cryogenic globe valves are available with a wide range of connections and material combinations.
They can be equipped with additional functions, such as bellows seals for increased tightness requirements, or with a non-return function.
With this combination, use of a separate valve can be eliminated.
Cryogenic globe valves are available in sizes from DN10 to DN200 and secure pressures up to 50 bar, at operating temperatures of -255°C to +120°C.
Key features
Stainless steel body and topwork, " live loaded " gland packing " cleaned and degreased for oxygen service "
Butt weld connection for stainless steel pipes acc. to ISO 1127
Various options available:

Bellow, top position (with or without monitoring)
Bellow, bottom position (with or without monitoring)
Check function
Control function
Throttle function

Working temperature: -269°C / -452°F (4K) up to +80°C / +176°F (353K)
Pressure rating: PN63
Materials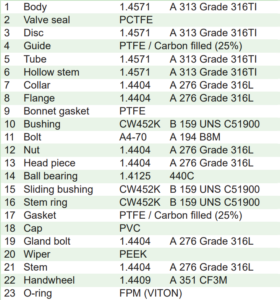 Applications
Approved for hydrogen, air gases, vapours and cryogenic liquefied gases.
Contact us
Interested? Please contact HEROSE by filling in the contact request form.