ULTIMA® X5000 – the perfect Hydrogen Gas Monitor
The Ultima® X5000 is a hydrogen gas monitor capable to detect hydrogen, combustible, toxic gases and oxygen. You can adapt one or two sensors at the same time to one X5000 monitor. There is a choice of three different sensor technologies: Infrared, catalytic bead, and electrochemical. Depending on the gas and the scope of detection we detect in percentage of lower explosive level (LEL %), ppm ranges or vol.-%.
The Ultima® X5000 comes up with an output of 4-20mA and HART. Optional we provide three relays for fault, warn and alarm
Bright status LEDs make it easy to see the status from a long distance even under poor weather conditions.
Via touch panel and the OLED display it is easy to adjust settings in a user friendly menu
With optional Bluetooth connection and the X/S connect app by MSA you can adjust settings with iOS and Android mobile devices.
With new Xcell sensors by MSA you will get a warranty of three years. The typical sensor life time of Xcell sensors is five years and for infrared sensors 10 years.
Approvals : SA, FM*, ATEX, IECEx, INMETRO, DNV-GL Marine, CE Marking. SIL 2 suitable. Complies with C22.2 No. 152, FM 6320
Benefits
The ULTIMA® X5000 Gas Monitor is the future of gas detection for hydrogen, oxygen, toxic and combustible gases.
MSA XCell® gas sensors with TruCal® technology offer calibration cycles up to 24 months (local calibration respected).
The gas transmitter's advanced, multi-lingual OLED display is easy to read and the unique touch-screen interface makes it simple to navigate.
Safe Swap: The ULTIMA X5000 comes with patented SafeSwap technology, which allows users to change or replace XCell sensors without needing to power down the instrument.
Dual Sensing: The ULTIMA X5000 is capable of communicating with and displaying information for two sensors at a time. There are no restrictions to the type of sensors connected to the device. The ULTIMA X5000 Gas Monitor generates two discrete analog outputs; one for each sensor connected to the transmitter. The analog output associated with Sensor 1 also has the digital HART (Highway Addressable Remote Transducer) communication superimposed on the analog signal. If two sensors are connected, the digital HART communication carries information for both sensors
Watch our product video
MSA's revolutionary TruCal Gas Sensor Technology
Diffusion Supervision warns if the sensor inlet becomes blocked and unable to detect gas.
It employs a proprietary acoustic mechanical design and algorithms to measure sound across the sensor's inlet.
If the inlet is blocked with a material, like ice, the difference in the sound is detected and the unit is put into fault.
When the obstruction is removed, Diffusion Supervision detects the clearance and returns to normal operation.
H2S and CO Sensors configured with Diffusion Supervision technology allow extended calibration cycles of 24 months reducing maintenance costs and allowing resources to be utilized elsewhere!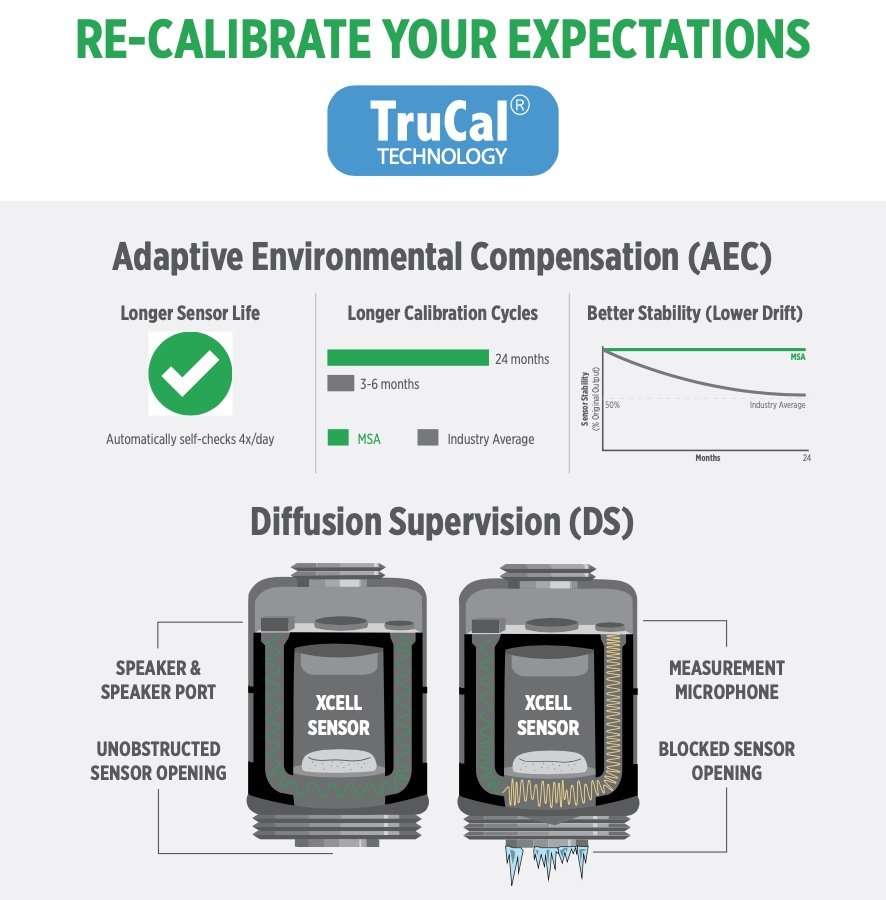 Operating manual
Visit the download section of this page to see all the documentation offered.
You can also directly jump into our the X5000 operating manual if you want to know all the details.
A more efficient way is to contact! Fill out the contact form and we will address your any questions you may have.
Contact us!
Your success needs to be safe! We are capable of securing your safety success by providing the right hydrogen gas monitor.