Working with Drivetek
Drivetek's comprehensive systems expertise in electric drive technology and power electronics is based on their specialst knowledge of electrical machines with related inverter/DC-DC converters, including the associated software, along with the courage to change persepective. They have the expertise to combine single components into individual systems solutions.
Multilevel Highspeed Inverter MLI 55 / 55+ 2.0 descriptions
Turbo speed and system costs under control. Our multi-level technology enables us to keep very high motor and generator speeds of up to 150,000 rpm safely under control.
The control technique and high PWM frequencies reached result in considerably lower rotor losses in the electrical machine, thus leading to a significant reduction in system costs.
Multilevel Highspeed Inverter family undergoes double inspection in the production.
Key features
Compact design
High power density
Liquid-cooled, inlet temperature < 70°C (under full load conditions)
Interface to higher-level control system (CANopen/J1939)
Field-proven sensorless speed and torque control
Temperature monitoring interface
Digital Signal Processor with high control performance
Integrated EMI filter
DC voltage measurement and supervision
Three phase current measurements
Three phase voltage measurements
IP67 enclosure
MLI Technology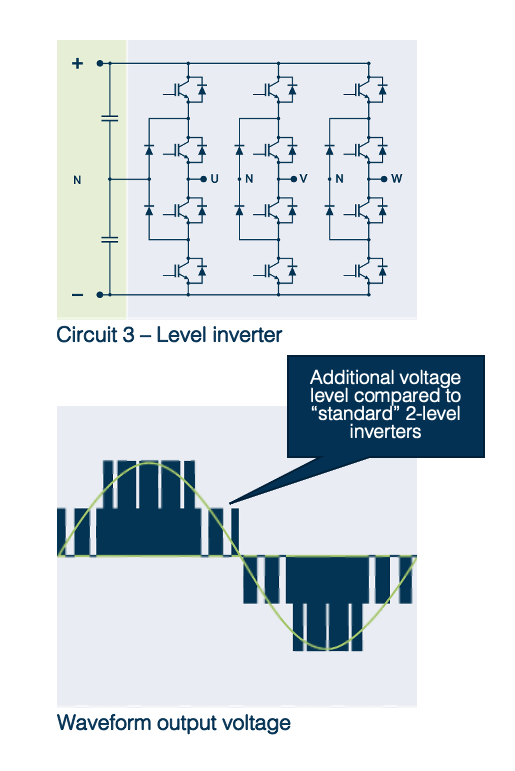 Drivetek has been applying multilevel technology to high-speed inverters (MLI) for e-motors spinning up to 180'000rpm since 2012. MLIs are used for air compressors, electric turbochargers and heat recovery applications
MLI technology provide cost advantage using standard IGBTs
Through the high PWM frequency and additional voltage level, lower pulsations of the magnetic field can be achieved, this leads to significantly lower rotor losses (eddy currents)
Due to the series connection of the switches, the voltage on each switch is only half of the DC Link voltage (e.g. 900V DC Link can be realized using a 600V class IGBT)
Multilevel technology allows significantly more complex control and error handling than 2-level architectures such: a) additional degrees of freedom, b) avoid "dangerous" power-off states in case of errors and c) control of the "N" point
To date, Drivetek has delivered several thousand units for a wide range of mobile fuel cell applications worldwide.
Drivetek has implemented all the tools to safely control multilevel inverters.
Drivetek's proprietary QUASAR SW platform and Q-Control SW allow more than 300 parameters to be managed freely.
Application areas
MLI is developed for fuel cell air compressors and electric turbochargers
Cars
Industries
Electrical Grid connection
We include state of art testing in our production processes
Incoming inspection
Automated PCB function testing, more than 100 tests, 100% test coverage
Thermal burn-in test
SW Programming
EOL test
Electrical interfaces
Contact us!
By pooling our experience, knowledge, and technology, we are able to meet your requirements with precision.