High pressure hydrogen gas booster DLE 30-2
The Maximator gas boosters' operating principle is similar to a pressure intensifier. A large air piston is charged with low pressure (air piston) and works on a small area with high pressure (high pressure piston),
The Maximator high pressure gas boosters are suitable for the oil free compression of gases and air,
Maximator boosters can be switched on and off automatically through air pilot switches, contact gauges or external control devices.
Features
Pressure regulation via manual pressure regulator or pneumatically actuated valve
Operation with compressed air allows use in explosion-proof areas
Gas booster automatically stops operating upon reaching pre-selected final pressure
Gas booster restarts automatically to compensate leaks
No power consumption during long pressure holding periods
No heat generation during pressure holding period
Easy installation and trouble-free handling of gas boosters
Low maintenance thanks to reliable, easy-to-install devices
Effective cooling of the high pressure cylinders through integrated exhaust air cooling
Working pressure up to 600 bar
Flow: 125 lN/min (4.41 SCFM) at an inlet pressure of 25 bar (362 psi) and outlet pressure of 150 bar (2,175 psi)
Air drive pressure of 6 bar (87 psi)
High compression
High flow rate
Working Principle
Single stage
Double acting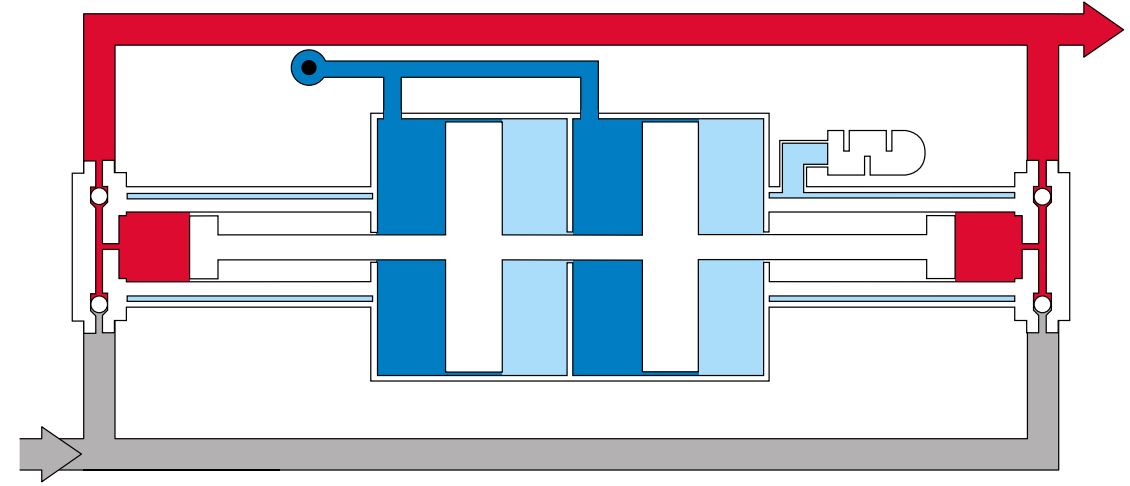 Performance graphs for DLE 30-2 at different drive pressure are shown below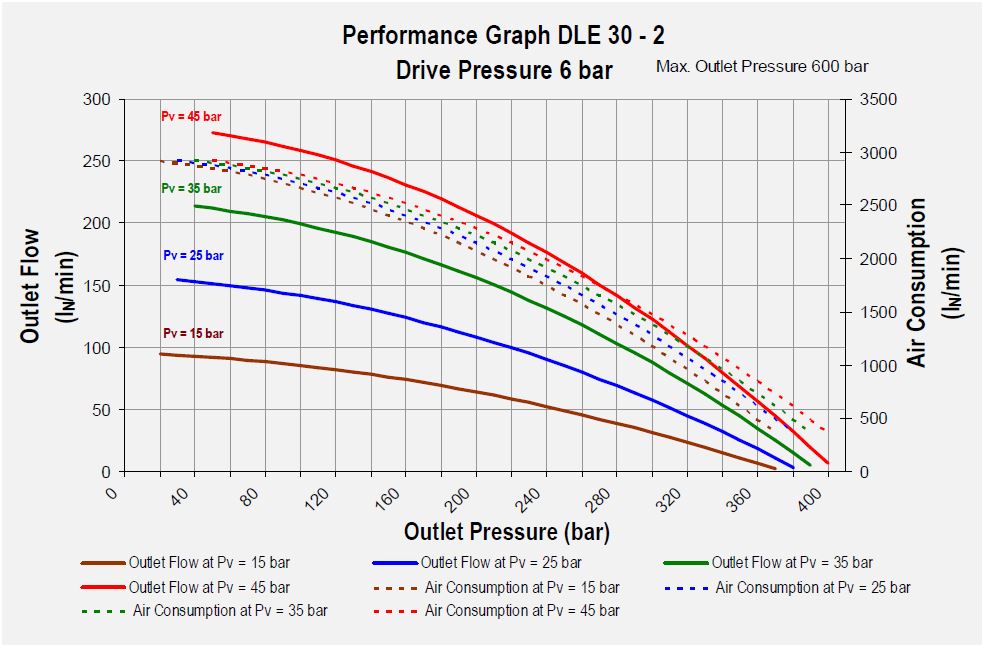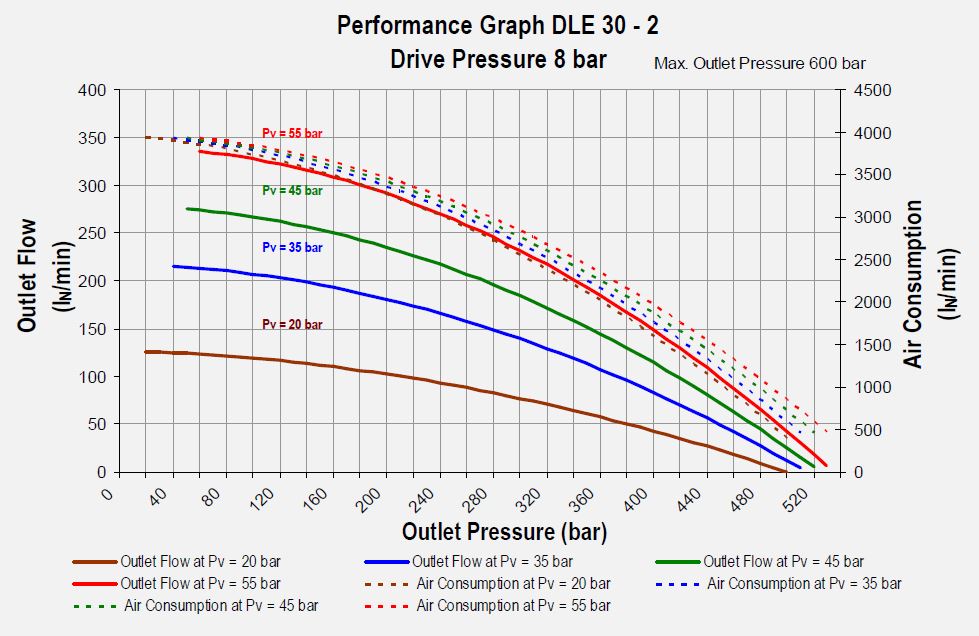 Materials
High pressure hydrogen gas booster DLE 30-2 has been manufactured using different materials as mentioned below
Seal: PTFE, FKM
Compressor Head: 1.4404
HP Cylinder: 1.4542
HP Piston: 1.4305
Fittings: 1.4404
Balls: 1.4304
Springs: 1.4310
Benefits
Working pressure up to 600 bar
Single stage, double acting
High compression
High flow rate
Low maintenance
Options
Inert gas service standard: DLE 30-2(-GG)
Oxygen service: DLE 30-2-GG-S
Co2 service: DLE 30-2-GG-C
In / Outlet – 9/16 -18 UNF: DLE 30-2-UU
In / Outlet – 1/4″NPT: DLE 30-2-NN
Application areas
Hydrogen compression
Testing applications
Pilot filling stations
Contact us
Contact us and tell us about your requirements. We will identify the suitable gas booster that provide the performance and safety you expect.