High Pressure Hydrogen Cooler Type – C
Flovex has created its standard production line to provide proven, efficient and competitive heat exchangers.
The products are developed for industrial applications, aiming at the highest level of efficiency and reliability.
In addition to the classic copper tubes, Flovex offers a wide range of material combinations with stainless steel, carbon steel, brass, cupronickel tubes, both in the traditional plain and low finned version.
The latter allows increased heat exchange surface, compact dimensions and reduced water consumption.
Thanks to the availability of a large stock of tested heat exchangers, deliveries can be made in a very short time.
Key features
Clamped removable covers for easy installation and maintenance
Inter-Stage and After-Cooler designed for reciprocating or diaphragm compressors
Suitable for in series or in parallel assembly as per process condition requirement
Full construction Stainless Steel 316L and customizable according to Client need
Different configurations available so to be adapted at compressor package design
Pressure design up to 800barg and temperature design up to 300°C.
Hydrogen flow from 50kg/hr up to 500kg/hr (depending on cooler type).
Thermal calculation performed by HTRI software to optimize selection.
Mechanical stress calculation according to codes ASME VIII or EN 13445.
Suitable for in series or in parallel installation as per process conditions.
ASME U-Stamp and PED 2014/68/EU verification and certification available.
Additional certifications according to final destination available on request.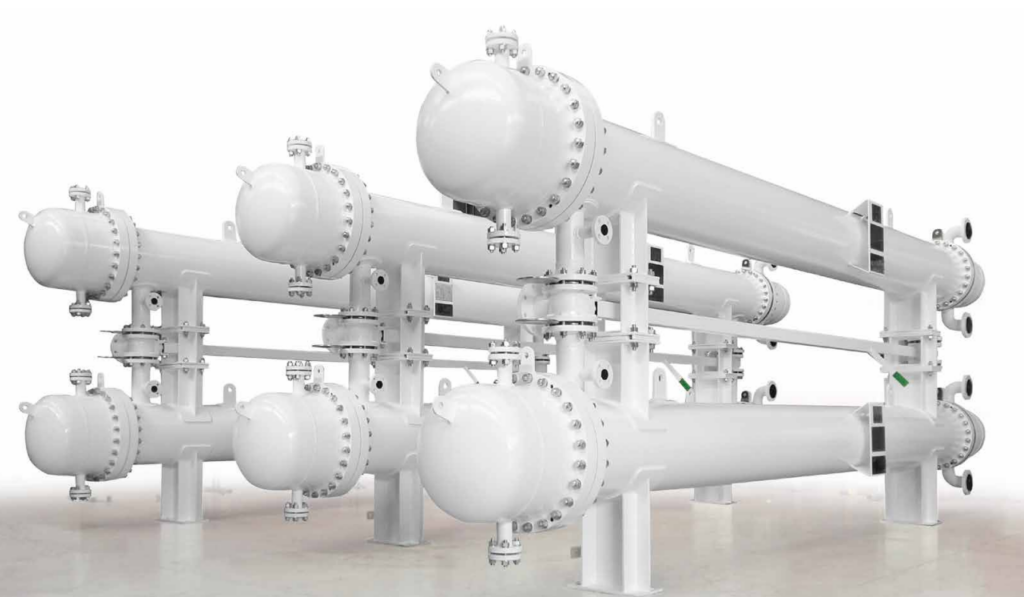 Applications
Suitable for wide range of hydrogen applications
Contact us
Flovex offers a wide range of products to meet customers' specific needs. Interested? Please contact Flovex by filling the contact request form.