Air cooled fuel cell stack N5
TerraLIX provides a unique power module to extend flight times to UAVs presently constrained by the limitations of batteries.
Flight duration of over three times that provided by batteries have been achieved and fuel cells provide a natural solution for manufacturers moving to larger drones and heavier payloads.
TerraLIX's air cooled fuel cell stacks run on hydrogen and ambient air to produce clean power in a simple, cost-effective, robust and lightweight package.
Key features
Guarantee superior durability and voltage stability

 

Superior output performance

 

Securing capacity by simplifying parts and reducing the size and weight 

 

Available continuous operation of 2,000 hours or more

 

No need to be stored in separate chamber

 

Implementation of easy water management and internal humidification structure

 
Current-voltage curve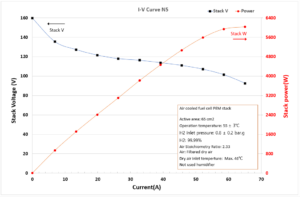 Application areas
Drones, small mobility power supplies(Electric cart, Autonomous Mobile Robotics…)

 

Mobile electric car charger power supply

 

Applied to the unmanned aerial vehicles of 25 kg or more

 

Small generators

 

Forklifts

 

Backup power sources

 
Product use cases
Development and demonstration of hydrogen fuel cell power system for 14-ton-class heavy construction equipment

 

Development of prototype fuel cell for wind condition measuring instrument power supply

 

Power packs for drones development

 
Contact us
We are excited about learning your requirements. Contact us today for faster response.