PEM fuel cell stack FCS-7-XXL
At Nedstack we specialize in optimizing our fuel cell stack (FCS) portfolio for mission critical long life systems.
By extension we rationalize our engineering trade-offs for the benefit of achieving the lowest possible levelized cost of energy (LCOE) within boundaries of absolute safety and reliabiltiy.
Our signature FCS-XXL platform is widely recognized to be the market benchmark for lifetime and uptime.
Proton exchange membrane fuel cell working principle
In a PEM Fuel Cell hydrogen and oxygen are to react in an electro-chemical matter to produce an electric current, pure water and heat. The structure of an individual fuel cell are explained below.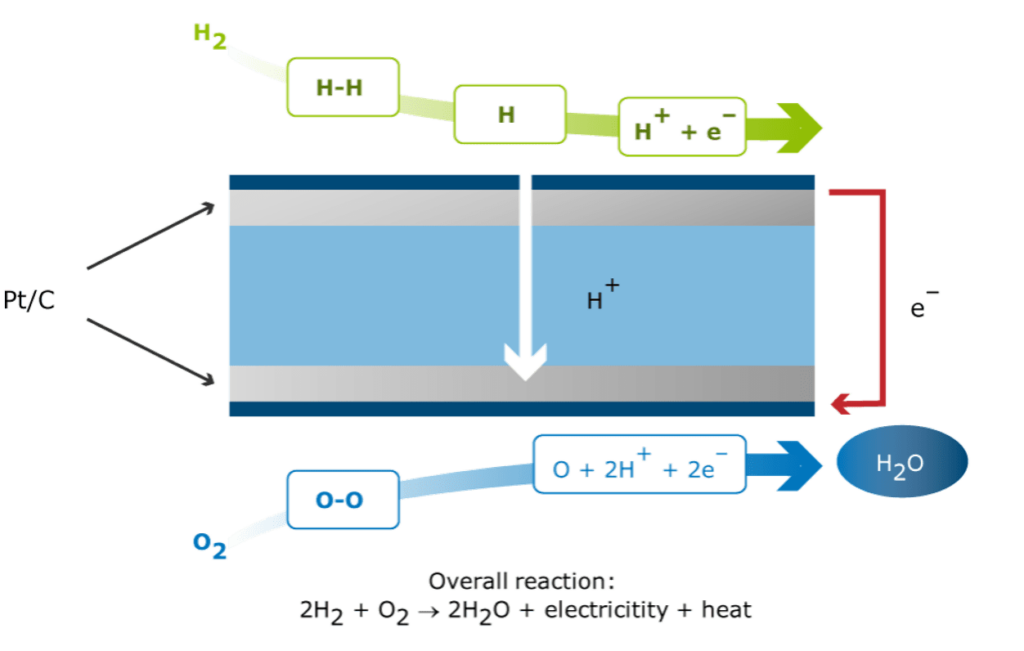 Product features
Delivered with an Application Manual and Nedstack Application Support Budget
Lifetime of 24,000 – 30,000 hours
Product verification at the Nedstack PEM Power Lab prior to delivery
Designed for 24/7 operation
Stack accessories to aid in the integration of stacks are available from Nedstack
For larger FC systems, see our 13kW FCS-13-XXL stack
Key benefits
Zero-Emission of particulate matter and NOx
Zero-Emission of CO and CO2 in operation pure hydrogen
Long life time (>20.000 hours) to refurbishment
High power density
Proven technology with strong track record in a large variety of applications
Best fit fuel cell type or 4th Generation Heat Grids
CAPEX winner
Applications
Building block for smaller fuel cell power systems
Back-up power
Mobile power systems
Telecoms
Domestic CHP
Contact us
We are excited about learning your requirements. Contact us today for faster response.