The HyStack® 200 Fuel Cell Stack Module – the heart of PM´s technology
The PM Stack Module offers high performance and reliability. It is specially developed and manufactured by Proton Motor. Its straight forward and flexible integration makes the PM Stack Module ideal for multiple energy applications. In addition to the fuel cell stack, the stack module already includes electrical interfaces as well as communication and media connections.
Key benefits
Most powerful fuel cell model with bi-polar plates

Freeze storage and start capable
Long life time

Liquid cooling (easy usability of the reaction heat)

High reliability

High efficiency

Live monitoring and diagnosis

Ideal for multiple applications

No external humidification necessary

No forced air ventilation needed

Safe use – Stack housing explosion tested
Included parts:
Fuel cell stack
Two main power switches to main DC/DC converter
Pre-charging device for main DC/DC converter
Voltage bleeding device
Current sensor
H2 purge valve
H2 pressure sensor stack inlet
H2 pressure switch stack inlet
H2 pressure regulator stack inlet
Main shut off valve stack inlet
H2 filter stack inlet
Anode water separator stack outlet
Level switch anode water separator stack outlet
Shut of valve anode water separator stack outlet
Shut-off valve air outlet (back pressure)
Temperature sensor cooling stack inlet
Temperature sensor cooling stack outlet
Temperature sensor air stack inlet
Temperature sensor air stack outlet
Cell voltage monitoring unit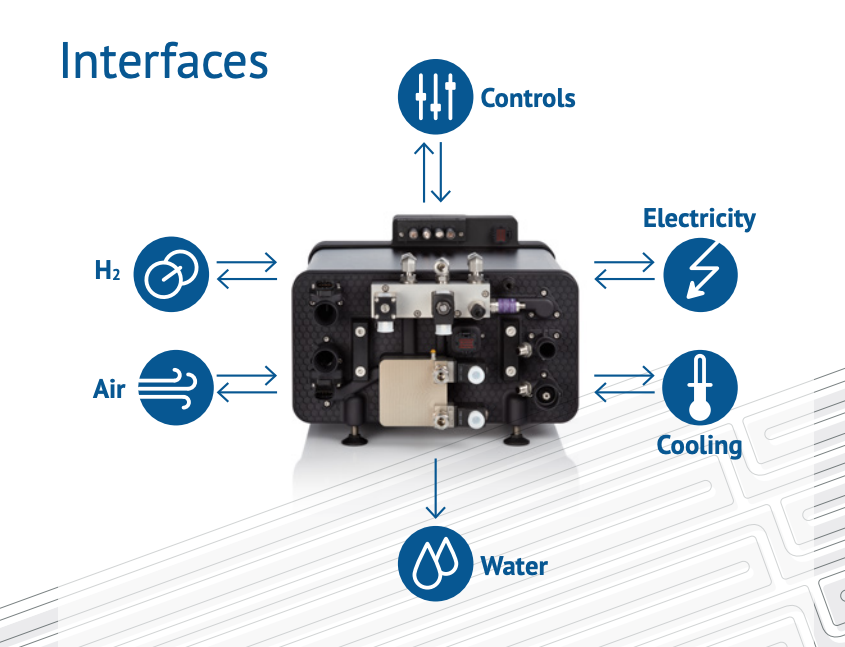 Applications
Stationary systems
Automotive
Maritime solutions
Railways
Contact us
Interested? Please contact the vendor by filling in the contact request form.