Filter silencers for fuel cell blowers and compressor FS/2G/QB Series
Most common air contaminants present in operating environments are SO2 and NOx. Fuel cells are sensitive to these compounds as well as salts and VOCs which can enter the process via the intake air. Installation locations can be harsh, raising the importance for particulate removal. Maximizing air purity for the cathode is essential for optimizing a PEM fuel cell.
The reduction of noise of fuel cells and their components is becoming increasingly important today. To minimize the noise level of both mobile and stationary solutions, it is often sufficient to use silencers that cancel out a wide range of frequencies. In this way, fuel cell systems can be used in any environment without burdening employees and the environment with noise.
Solberg evaluates each application and works within customer constraints and media adsorption capacities to optimize filter effectiveness
A variety of filter media is available
Solberg provides various filter-element media which can be used in different applications and are made for specific parameters.
Separation efficiency polyester ≥99% at 10 µm, ISO16890 ePM10 70%.
Paper separation efficiency ≥99% at 2 µm, ISO16890 ePM2.5 50%
Also available as GMAC-filter element, a chemical adsorption element
GMACZ: 1 micron, 99+% efficiency
Key Benefits
Standard and individual solutions available: we partner with you to find the perfect filtration solution for your specific application
Large flow range available: 5m³/h – 14000m³/h
Development and production in the USA: We have the control over our processes, development, and construction, which ensures the highest quality of our products
Protected by weather hood made of deep-drawn steel sheet – without welds, which reduces a risk due to corrosion or mechanical fatigue
Tubular silencer – tube on the outlet guarantees maximum silencing without reducing the size of the outlet or blocking the air flow
Mild steel powder coated (gray)
Can be mounted both vertically and horizontally
Continuous temperature: min. -26°C, max. 104°C
Pressure drops typically less than 6 mbar – pressure drop curves available upon request
Features
Optimal combination of inlet filtration with silencing for blowers and compressors in fuel cell systems
Standard and individual solutions available (please talk to us about your specific requirements)
Housings and filter-elements available in many different sizes and designs from Solberg
Usable in the smallest installation space
Easy sealing for good integration into the fuel cell system
A variety of filter media and assembly options are available
You can find the different media specifications in our technical data sheets for FS Series and for 2G QB Series
Please visit the download section for further information.
Application areas
Mobile or stationary fuel cell applications, which use vacuum pumps, compressors and blowers.
Filter Silencing Illustration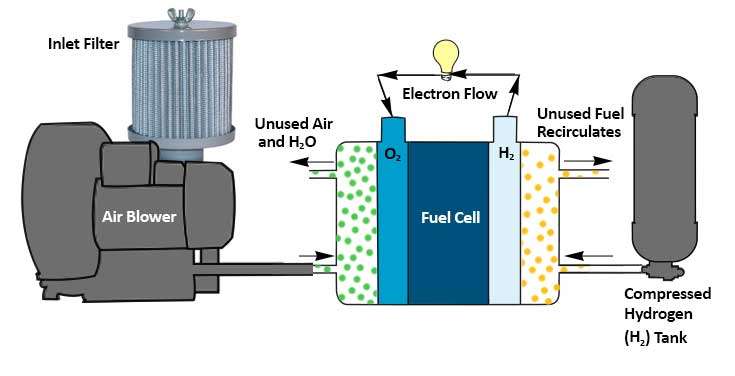 Recent projects
Solbergs works in this space for more than 50 years and provides filtration solutions for compressors, blowers and vacuum pumps to manufactures all over the world, to help them make their products less noisy and their airstream free from particles and gases.
Working with Solberg
With more than 50 years of experience in the development and production of filtration solutions, the name SOLBERG stands for expertise in filtration like no other. By taking particles, liquids, steam, oil mist and harmful gases out of the air stream, we protect all kind of machines and at the same time the environment.
We want to help our partners to innovate, to find new ways and solutions to enhance their technologies and make power generation more sustainable. For this reason, Solberg developed specific filtration solutions for fuel cells, which we think, will be an important part in the futures energy storage market.
Contact us
Contact our team today. We're happy to help you find the right filter solution that best suits your application's requirements.