Celeroton Compressors
Ultra-high-speed turbo compressors with contact-free and oil-free gas bearings enable outstanding solutions in terms of compactness, service life and performance.
Compared to compressors with standard speeds, our systems are significantly lighter and smaller as well as highly efficient.
The Celeroton range of turbo compressor products covers a wide spectrum of pressure ratios, pressure differences, mass flows and volume flows.
The turbo compressors can be operated with a wide range of fluids and used for different inlet conditions, e.g. overpressure or underpressure.
The contact-free gas bearing makes it possible to achieve a fully oil and lubricant-free compression of air, refrigerants, inert and noble gases, e.g. argon or helium.
We are happy to calculate the characteristics for your specific application and offer you a standard or custom solution.
Turbo compressors combined with our range of converters achieve optimum results.
Key benefits
Highly compact, ultra-high-speed, electrically driven radial turbo compressor with air bearings for the air supply of fuel cell systems
Ultra-high-speed air bearings for oil-free operation
Lowest ratio of volume and weight versus pressure and mass flow due to highest speeds
Aerodynamic and electromagnetic optimization for highest total efficiency
Proprietary air bearing technology
Sensorless control with converter CC-2000
Why should I decide on a Compressor from Celeroton?
oil-free
contactless bearings
highly compact design
efficiency up to 70 % (isentropic)
lowest weight
low material and energy use
customizations available
Watch our turbo compressor in action!
See the demonstration video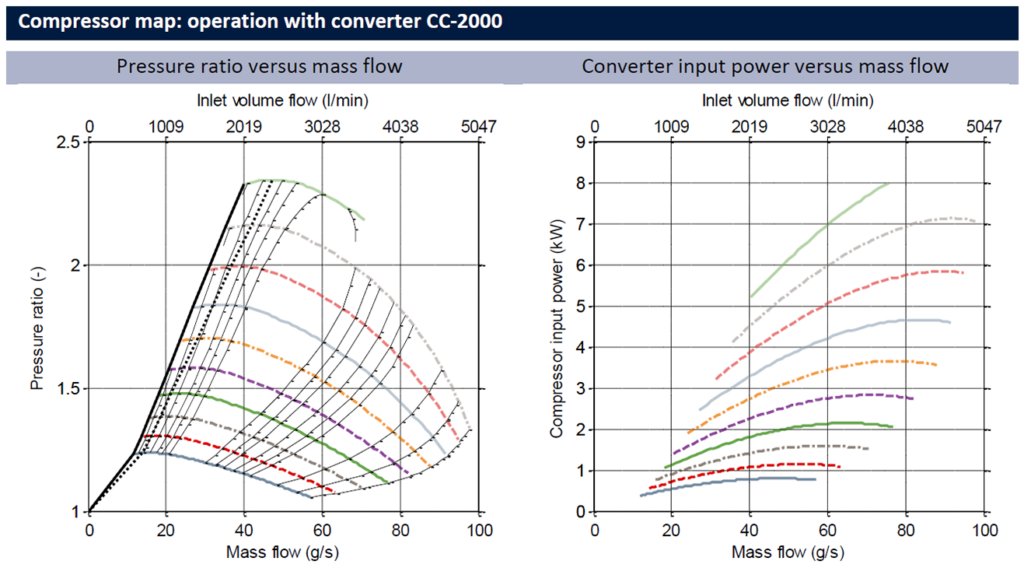 Applications
Passenger vehicles
Light commercial vehicles
Material handling
UAVs
Off road applications
Stationary applications
Power generation
Contact us
Contact us and tell us about your requirements. We will identify the suitable compressors that provides the performance and safety you expect.