Cell voltage monitor CVM G5S
The CVM G5S module was specially developed for cell voltage monitoring in series production vehicles.
The performance features are limited to the range of functions actually required in series production.
The single-board solution offers high robustness in long-term operation and a unit-dependent cost advantage.
Several modules are cascadable and equipped with automotive-compliant components and connectors.
Integrated solutions consisting of measuring module and Cell contacting in a space-saving mounting frame.
Customised adaptation of the overall system to the respective fuel cell stack.
Cost-optimised design.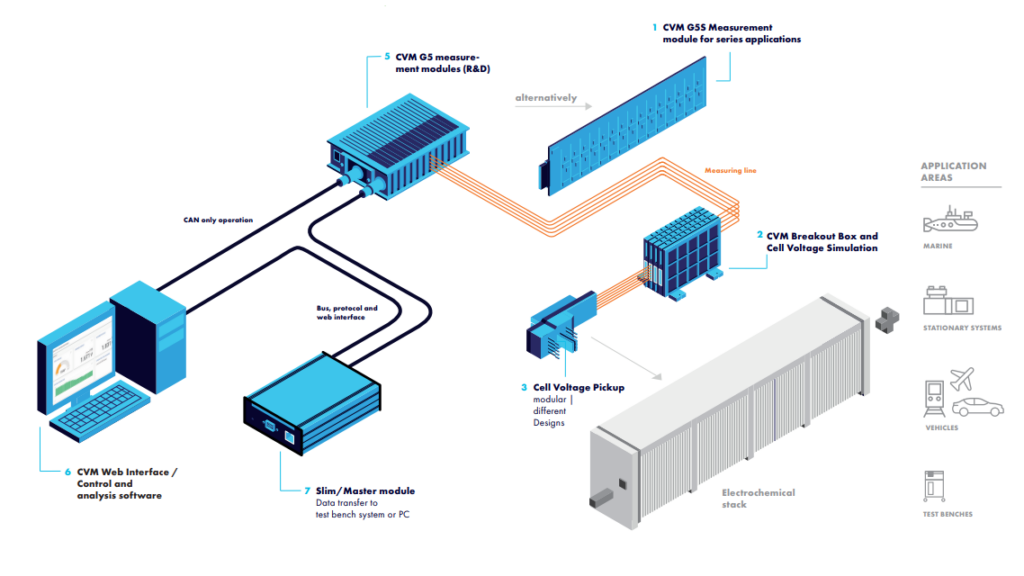 Features
A CVM G5S measuring module has up to 200 measuring channels, depending on requirements
The DC measuring range is suitable for single-cell or double-cell sensing
One module has two CAN interfaces for ECU communication and diagnostics
Very robust in continuous operation
Wide range of cell voltage pick-up solutions
Scalable up to 230 measuring channels
Assemblies cascadable
DC measuring range suitable for single-cell or double-cell scanning
Interference resistance due to internal oversampling and filtering
Insulation resistance 1.4 kV DC
Time-synchronous acquisition of all cell voltages
Automotive temperature range -40 to +105 °C
Common toolchain with CVM G5
Customised adaptations on request
Applications
Automotive
Marine
Fuel cells
Test benches
Contact us
Interested? Then contact the vendor by using the contact vendor form.